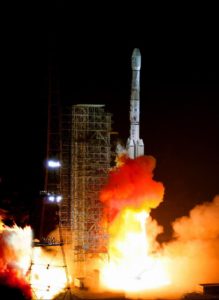 The Chinese Air Force – officially called the People's Liberation Army Air Force (PLAAF) – intends to expand its presence into space as part of its plan to become a "world-class force," China's state-run media reported on 13 November 2018, quoting senior Chinese officers, and first reported outside of China by The Japan Times.
The China Daily newspaper said Senior Col. Wang Zhonghua, head of the Planning Bureau of the PLAAF's Equipment Department, had told a news conference on 11 November 2018 in the city of Zhuhai that the service "spares no efforts in handling all threats, and is gearing up to extend its reach beyond the clouds and into space."
Wang's comments at the news conference coincided with the 69th anniversary of the PLAAF's founding, and was part of the six-day 12th China International Aviation and Aerospace Exhibition that wrapped up on 11 November 2018 in Zhuhai.
Senior Colonel Wang was quoted as saying that the PLAAF is currently undergoing "revolutionary changes that will generate a system that can function in future warfare scenarios."
Lt. Gen. Xu Anxiang, the PLAAF's deputy commander, also outlined what the report called "a multiphase road map for building a strong, modern" air force.
The first step, he said, would be the establishment of a strategic force by 2020 that "will have integrated air and space capability and balanced strength in both defensive and offensive operations."
"When that is achieved, fourth-generation equipment will serve as the backbone of the air force's arsenal. Information-based systematic combat capabilities will be enhanced," he added.
According to the China Daily report, the air force categorizes its top weapons, including the J-20 stealth fighter jet and Y-20 strategic transport aircraft, as fourth-generation equipment, while the J-10 and J-16 combat fighters are classified as third-generation.
Xu said the following phase would see the air force further improve its strategic capabilities and modernize its organizational structure, human resources, and weapon systems.
"The building of a modern strategic air force will essentially be achieved by 2035," Lt. Gen. Xu said.
Ultimately, the air force will be fully transformed into a world-class force by the mid-21st century, he added.
The China Daily and The Japan Times reports offer no details about how PLAAF ambitions to become an air and space force impact the status of the People's Liberation Army Strategic Support Force (PLASSF), the service branch currently responsible for all Chinese cyber and electronic warfare, as well as military space forces.
The comments made at the Zhuhai Airshow by senior PLAAF officers could be interpreted in a number of ways, including as an indicator that inter-service rivalries are increasing in China, or that Chinese senior political leaders are considering a consolidation of services. The latter, however, could be unlikely since the PLASSF was only formed in January 2016 after politically contentious service amalgamations and reorganisation.
SpaceWatch.AsiaPacific will continue to monitor and report developments on this matter as they unfold.