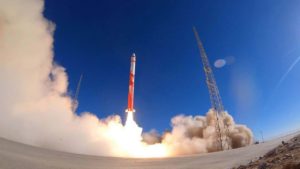 Following the launch failure of LandSpace's Zhuque-1 satellite launch vehicle on 27 October 2018, the Chinese New Space launch company has publicly released its preliminary findings as to why its rocket failed 402 seconds after launch from the Jiuquan Satellite Launch Centre in China.
According to Andrew Jones in GBTimes, the very fact that LandSpace publicly released its preliminary launch failure report is itself a landmark in Chinese space history since the causes of launch failures in the country are traditionally shrouded in secrecy and public scrutiny is often discouraged.
Zhuque-1, according to LandSpace's preliminary findings, suffered an anomaly at the 402 second mark in its launch path with the company's engineers suspecting that the failure was caused by a damaged reaction control system that resulted in propellant leakage and loss of attitude control, causing Zhuque-1 to splashdown in the Indian Ocean.
According to LandSpace, Zhuque-1 reached an altitude of 337 kilometres and reached a maximum speed of 6.3 km per second, well short of the 7.9 km per second required for the SLV to reach its intended orbit.
These are just the preliminary findings, with LandSpace conducting a thorough investigation of the Zhuque-1 SLV launch failure over the coming days and weeks so as to definitively ascertain the cause and then make the necessary launch insurance claims.
The 27 October launch of Zhuque-1 was supposed to be the first attempt by a private Chinese company to send a rocket with payload into Earth orbit. The failed LandSpace attempt means that the honour of the first private Chinese space launch will be attempted by OneSpace before the end of 2018.
The Zhuque-1 payload was a minisatellite called Weila-1 ('Future') belonging to China Central Television (CCTV) that was supposed to used in a television science series.
Jones reports that the very fact that LandSpace have been transparent in their dealings with the Zhuque-1 launch failure has garnered praise in China, with many commentators on Chinese social media using the term 'jia you' ("加油"), a Chinese term of encouragement.
"The satellite might not have reached orbit, but we could see that China private launch companies response are so great. Onespace and Linkspace's CEO both posted Landspace's photo or video and showed their encouragement to Landspace," Lan Tianyi, founder of Chinese space consultancy Ultimate Blue Nebula, said in an interview with Jones.
"Now more and more people in China know more about space, about launch vehicles, about satellites," Lan said.
"I think private space sector played an important role on it. They are more open, more inclusive, more daring to innovate and explore. We believe they will try again," he added.