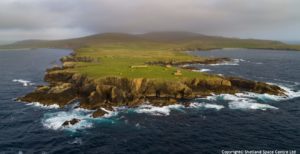 Shetland Space Centre (SSC) has joined forces with telecom experts in the neighbouring Faroe Islands, forming a unique international partnership to drive forward space industry developments in the two island groups and beyond.
Faroese Telecom, which provides Shetland and Orkney with access to high speed fibre broadband through its SHEFA cable, is the preferred supplier of infrastructure supporting high speed fibre broadband and future 5G to SSC. It will also provide technical and commercial support for ground station activity and data download and storage in Unst.
At the same time, SSC will provide specialist support for the establishment of a Faroese ground station.
Frank Strang of SSC said, "The Faroese share our 'can do' culture and love to get on with it and make things happen."
"There are already established links between our two groups of islands and this partnership makes absolute commercial and cultural sense. The strategy is to create a network of satellite tracking stations, making the best use of our geography and locations."
Faroese Telecom is already looking into space with preliminary research on an Arctic satellite programme in partnership with strategic allies in the region.
"The space economy is moving at a tremendous speed and I believe that we have to be able to match that pace to maximize the huge opportunities that exist in the commercialisation of space," said Jan Ziskasen, CEO of Faroese Telecom.
SSC is a privately-funded company that aims to establish a ground station in Unst, Shetland's most northerly island, by late 2019, and has a Memorandum of Understanding with Lockheed Martin with whom it is developing this project.
SSC also intends to develop a launch site in Unst after it was identified in the Sceptre Report for the UK Space Agency as the best location in the country for sending rockets with small satellites in their payloads into polar and sun-synchronous orbits, free of overfly restrictions due to islands or oil and gas installations.
It is already working closely with a major player in the space industry on technical specifications for launch infrastructure and will make further announcements on this in the near future.