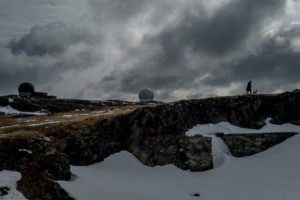 As climate change makes the Arctic region, also known as the High North, more navigable for conventional shipping and open to natural resource exploitation, so geopolitical competition between Arctic countries such as Canada, Russia, United States, and Scandinavian countries such as Norway intensifies.
This emerging geopolitical competition is also extending into Earth orbit, and Norway is establishing itself as player in this regard, both commercially and militarily.
One example of Norway's military role in space activities over the Arctic is the GLOBUS space surveillance and radar facility located at Vardø, a fishing village on an island off Norway's Barents Sea coastline. The GLOBUS facility is run by the Norwegian Intelligence Service (NIS), in cooperation with U.S. Air Force Space Command, and has been in operation since the 1950's. Now, one of the GLOBUS radar's – GLOBUS I – is being replaced with a more capable and sophisticated system called GLOBUS III. Another radar, GLOBUS II, has been in operation at Vardø since 2001.
The GLOBUS radars at Vardø are designed to conduct surveillance on, track, characterize, and catalogue space objects – to include Russian satellites – as they orbit over the facility and the Arctic region. This space situational awareness (SSA) information provides Norwegian, U.S., and other North Atlantic Treaty Organisation (NATO) allies with useful intelligence about Russian satellite capabilities used in the Arctic region.
SpaceWatch Russia & CIS recently reported that Russia is looking to establish its own ground-based SSA capabilities along its Arctic Ocean coastline as Moscow seeks to collect the same kind of information about U.S., Canadian, and other foreign satellite activities over the Arctic region.
Commercially, Norwegian company Space Norway is creating waves by targeting contracts with the Canadian Armed Forces and the U.S. Air Force to provide satellite broadband services in the Arctic region on its two communications satellites slated for launch in 2022. The two satellites are expected to operate in the highly-elliptical orbits commonly used by systems operating over the North and South Polar regions.
The U.S. Air Force is expected to sign a Memorandum of Understanding (MoU) agreement by January 2019 with Space Norway in order to take advantage of the company's capabilities. The Space Norway satellites are being eyed by the U.S. Air Force to act as hosts  for its Enhanced Polar System payloads. The two Space Norway satellites are expected to be lofted into orbit by a U.S. launch provider, and if the MoU goes according to plan is estimated to save the U.S. Air Force as much as U.S.$900 million.
More recently, the Canadian Armed Forces have also entered into discussions with Space Norway in order to explore ways they can access the proposed two-satellite system to provide satellite broadband services to Canadian forces deployed in the Arctic region.