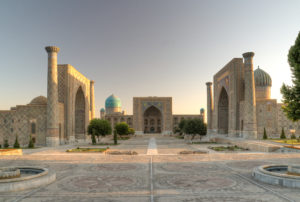 France hopes to sell a high-resolution Earth observation satellite to Uzbekistan when President Shavkat Mirziyoyev is hosted by French President Emmanuel Macron at the Elysee Palace on 9 October 2018.
If the satellite deal is made, then it will be the culmination of many months of effort by French satellite executives and Uzbek officials, and will also further demonstrate French determination to enter the Central Asian satellite market long dominated by Russia.
For months now Uzbekistan has been wooing French satellite manufacturer Thales Alenia Space to help develop its own space and satellite industry, according to Uzbek media outlets.
This became known following talks held in France between first deputy chairman of the Uzbek Senate, Sadyk Safayev, and Eric Imbert, vice president of Thales Alenia Space .
The two sides discussed mutual cooperation centering on space and satellite projects in Uzbekistan, to include collaboration on integrated satellite systems and the establishment of a space technology and industrial base in Uzbekistan, a former Soviet republic, as well as the training of a local workforce.
Reports suggest that Thales Alenia Space has benefitted from efforts made to create the right conditions for the development of a space industrial base in Uzbekistan.
Uzbek officials have also visited Thales Alenia Space satellite manufacturing facilities in France.
Thales Group is one of the leading international space and defence companies in Europe, and operates in the aeronautics, space, defence, and cyber security sectors. The company has operations in 56 countries around the world, with an average annual turnover of approximately U.S.$18.45 billion. Thales Alenia Space also maintains a representative office in Uzbekistan.
Uzbekistan and Thales Alenia Space have also been negotiating the manufacture of the first Uzbek Earth observation satellite, and are also exploring ways of implementing a joint project to develop the necessary infrastructure for connecting Uzbekistan to satellite broadband.
Thales Alenia Space has also been in discussions with Turkmenistan regarding the sale of a high-resolution Earth observation satellite with a 0.5 metre resolution panchromatic camera. Reporting in the French intelligence news outlet Intelligence Online suggests that Thales have indeed won this contract, and that Turkmenistan – regarded as one of the most corrupt and repressive countries in the world – has set aside several hundred million U.S. dollars to pay for the project.