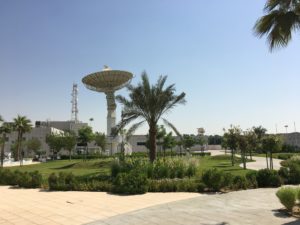 WAM/SWGL – The UAE's Mohammed bin Rashid Space Centre (MBRSC) has shortlisted 15 space technology startups for its "Innovation Challenge," as part of its participation in the Gulf Information Technology Exhibition's (GITEX) Future Stars.
One of the largest events for startups and entrepreneurs in the region, GITEX Future Stars is hosted by the Dubai World Trade Centre from 14-17 October 2018, in conjunction with GITEX Technology Week 2018.
In the second stage when shortlisting the finalists, MBRSC will offer them the opportunity to present their innovative projects and ideas in various fields. These include spacecraft and satellite technology, system development for analysis and applications, renewable energy technology, as well as a development of advanced systems to find the best innovative solutions to support UAE's Mars 2117 Strategy.
Yousuf Hamad Al Shaibani, Director-General of the MBRSC, said that the space centre has a clear strategy to support and promote innovation. The Innovation Challenge, supports the approach MBRSC is pursuing to encourage local and global startups to grow, and give entrepreneurs the opportunity to present their projects and meet a network of global technology companies, he added.
The Innovation Challenge is part of the Mars 2117 Programme and is funded by the ICT Development Fund of the UAE's Telecommunications Regulatory Authority (TRA).
GITEX Future Stars is an important platform for more than 400 startups to showcase their business, attract investors, and meet key technology companies participating in other GITEX events.
The event promotes business relationships, partnerships, and collaboration, by hosting over 700 entrepreneurs and investors from 75 countries, and providing investment opportunities and capital projects with an estimated U.S.$11 billion in combined managed funds to the UAE as an attractive global investment destination.