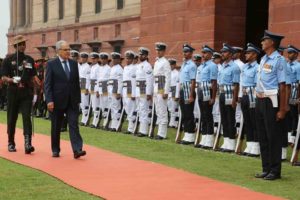 The Indian government's Cabinet Committee on Security has approved the creation of the Defence Cyber Agency, the Defence Space Agency, and the Special Operations Division as part of ongoing defence reforms designed to deal with emerging and new threats, according to government sources quoted in the Indian media.
All three agencies will be tri-service – or joint –  meaning that they will draw from the Indian Army, Navy, and Air Force, and will be under the command of the Chairman of the Indian Chiefs of Staff Committee.
The decision follows a 2012 Chiefs of Staff Committee recommendation for the formation of three separate joint commands — cyber, space, and special operations —to address emerging threats and a changing strategic environment. The Committee has also reportedly been pushing for more synergy and jointness to prepare for threats from the "emerging triad," of space, cyberspace, and special operations for future warfare.
"It is big a step and these will later branch out to form separate independent, stand-alone Commands dealing with Space, Cyber Space and Special Operations," a government source told the Hindustan Times. "The agencies will lead to lot more synergy, economy and sharing of resources building of best practices."
Indian defence planners and strategists are increasingly concerned about Chinese offensive counterspace and antisatellite (ASAT) research and capabilities, as well as Chinese cyber and information warfare capabilities. It is believed that Indian satellites used for national security purposes are vulnerable to kinetic and non-kinetic attacks by China, and India has already endured numerous cyber-attacks and incidences believed to have emanated from China. Furthermore, border disputes with China and Beijing's strategic support of Pakistan in recent years have raised the possibility of actual war between India and China, and a growing number of analysts around the world warn that in any modern conventional war initial action will likely take place in the space and cyber domains.
India's Defence Space Agency will deal with these threats and other national security space issues, and will work in close cooperation with the Indian Space Research Organisation (ISRO) and India's Defence Research and Development Organisation (DRDO).
The Hindustan Times has also learned that the space and cyber agencies will be headquartered in New Delhi so that they can closely coordinate with their civilian counterparts.
Lieutenant General K.J. Singh, former Western Army Commander, told the Hindustan Times that creating these new agencies is a smart move. "One should hold course and these need to be upgraded to the next level – commands… But these don't need to be staffed all by the military personnel alone. In the areas of cyber and space, experts on contractual basis should be included to get the best talent…"
The original Chiefs of Staff Committee recommendation was for full-fledged commands under the command of three-star generals to handle the rapidly-expanding challenges in space, cyberspace, and clandestine warfare, especially with China making huge investments in all three of these areas, but the Indian Cabinet has favoured setting up much smaller tri-Service agencies under two-star generals instead.
Sources have told The Times of India that the joint structures for the new Defence Space Agency, Defence Cyber Agency, and Special Operations Directorate will be created using existing resources without any loss of manpower.
The Defence Space Agency will bring together under its command the existing Defence Imagery Processing and Analysis Centre located in New Delhi, and the Defence Satellite Control Centre located in Bhopal. Meanwhile, the Defence Cyber Agency upgrades the existing Defence Information Assurance and Research Agency.