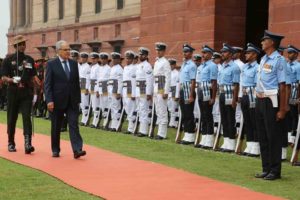 India and Morocco signed Memoranda of Understandings on space and cyber security cooperation in New Delhi on 25 September 2018, it has been announced.
In 2015 the two countries decided to elevate bilateral ties to a Strategic Partnership and have been working to include new areas of cooperation to the partnership including space and military cooperation as well as traditional economic cooperation such as fertiliser, chemicals, automobiles, renewable energy, and construction.
Indo-Moroccan relations received a boost after the historic visit of King Mohammed VI to New Delhi in October 2015 as part of the third India-Africa Forum Summit.
Given the geographical proximity of Morocco to countries like Libya, as well as its track record and reputation in countering terrorism and radicalization, the country is a key counter-terror and de-radicalisation partner for India in North Africa.
Moroccan Defence Minister Abdeltif Loudyi on Tuesday met India's Defence Minister Nirmala Sitaraman in South Block in New Delhi to discuss bilateral cooperation between both the countries.
During the meeting, both ministers agreed to enhance bilateral cooperation in the field of defence and security. India's defence minister identified the fields of hydrography, peacekeeping, telemedicine, information communications technology (ICT) as well as counter-terrorism and counter-insurgency as potential areas for bilateral engagement.
Cooperation on defence industry, including collaboration in ship building and manufacturing support were also discussed.
Two bilateral MoU's covering  'Cooperation in Peaceful Uses of Outer Space' between the Indian Space Research Organisation (ISRO) and the Moroccan Centre of Remote Sensing, and 'Cooperation in the area of Cyber Security' between the Indian Computer Emergency Response Team (CERT –IN), India's Ministry of Electronics and Information Technology, and the Moroccan Computer Response Team (ma-CERT), were signed in the presence of both defence ministers.
As part of its visit to India the Moroccan delegation also visited and held meetings with Bharat Electronics Limited (BEL) and Hindustan Aeronautics Limited (HAL) at their respective facilities in Bengaluru as part of their two day official trip.
Indian defence minister Nirmala Sitaraman also invited her Moroccan counterpart to attend Aero India 2019 that will be held in Bengaluru in February 2019.
Morocco is rapidly emerging as North Africa's economic leader and is a major source of phosphates for India, which is the largest Asian recipient of Moroccan governmental investment. The return of Morocco to the African Union (AU) in 2017 after three decades has also added further momentum to Indo-Moroccan relations.