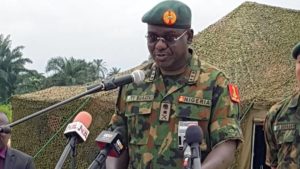 The Nigerian Army is creating a Cyber Warfare Command comprised of 150 personnel drawn from across the service in order to combat rising cyber insecurity from terrorists, criminal organisations, and other threats.
According the Nigerian newspaper Vanguard, the Cyber Warfare Command "is charged with the responsibility to monitor, defend and attack subversive elements in the cyberspace."
The creation of the Cyber Warfare Command was ordered by the Chief of Staff of the Nigerian Army, Lieutenant General Tukur Yusuf Buratai as part of the Nigerian military's response to Nigerian President Muhammadu Buhari's demand that Nigeria's volatile security situation be quelled as soon as possible.
Nigeria is the most populous country in Africa, and is one of the continent's fastest growing economies, but has been tragically plagued over the decades by civil war, sectarian strife, organised crime, endemic corruption, and terrorism – most recently from the brutal and extremist Salafist group Boko Haram.
An anonymous source in the Nigerian military establishment told Vanguard that, "The Headquarters of the Cyber Warfare Command would be in Abuja even as it would also have other units in each of the geo-political zones. It is the first of its kind in Africa."
Vanguard also reports that Lt. Gen. Buratai's decision to create Cyber Warfare Command has been long in gestation, as he first proposed the creation of such an organisation in November 2016 as part of the Nigerian government's response to the threat posed by Boko Haram.
It is believed that the Cyber Warfare Command is being set up with technology and expertise provided by U.S. technology company IBM. According to the Vanguard report, IBM is providing the resources for Cyber Warfare Command to carry out distributed denial-of-service (DDOS) attacks against the online presence of terrorists, criminal groups, and other threats.
Cyber Warfare Command will also be responsible for the defence of Nigerian government and military networks, and support Nigerian field commanders in cyber operations.
It is also believed that the Nigerian military has come to agreements with the United States, United Kingdom, and Russia for the provision of training and other capacity building initiatives for the 150 Nigerian Army personnel that will staff Cyber Warfare Command.
"With the establishment of the Command the fight against terror, insurgency, armed banditry, pipeline vandalism, herdsmen and militia killings would be checkmated since real-time information would be provided to the fighting forces and commanders in the field from the highly sophisticated equipment already procured," the anonymous Nigerian military source added in an interview with Vanguard.