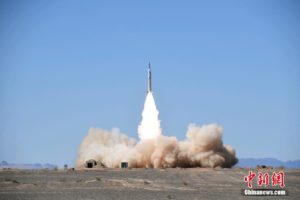 China's government is considering building a commercial space launch centre for the country's New Space private launch companies, a number of which will be attempting their first orbital flights by the end of 2018, according to a report by Andrew Jones in GBTimes.
The Chinese government made the decision to open the launch vehicle and remote sensing satellite areas of its space sector to private enterprise in 2014, and this policy has led to the creation of a number of commercial space companies.
New Space startups OneSpace and iSpace, also known as Space Honor and Interstellar Glory, both launched suborbital rockets from the Jiuquan Satellite Launch Centre in the Gobi Desert earlier in September 2018 and Landspace intends to conduct the first orbital flight of its Zhuque-1 launch vehicle in the final quarter of 2018.
Despite apparent rapid progress, Jones writes that barriers remain. China is increasing its government launch rate and this is resulting in uncertainty about these companies' access to China's four national launch centres. Chinese space officials are aware of this issue, however, and are examining ways in which they can support Chinese New Space launch capabilities.
"The government will strengthen the administration, especially for carrier rockets. We will soon issue a notice to regulate scientific research, launch and services of space launch vehicles to manage these activities more effectively with standards," said Li Guoping, a spokesperson for the China National Space Administration (CNSA) and quoted by Jones in his GBTimes report.
Li, who was speaking last week at a forum on Space Exploration and the Future of Mankind as part of the first World Conference on Science Literacy in Beijing, added that, "In the coming years, we may also introduce guidelines to promote the development of commercial space launch in light of the current business situation and the future development needs."
Chinese-language news outlet Beijing News reported on 20 September 2018 that China has started to study the building of an open and shared commercial space launch centre. Additionally, according to Jones, a first Space Law addressing the commercial launch situation has also been included in the legislative plan agenda for China's top law-making body.
China currently boasts at least five New Space launch companies, including Landspace, OneSpace, iSpace, Linkspace, and ExPace, a subsidiary of the state defence contractor CASIC. All of these companies aim to produce low-cost, competitive launch vehicles and access to space.
Jones notes that a new launch centre dedicated to commercial launches, in addition to the existing Jiuquan, Taiyuan, Xichang, and Wenchang government and military launch centres, could help maintain these launcher companies' competitive pricing plans, and could also boost investor confidence.