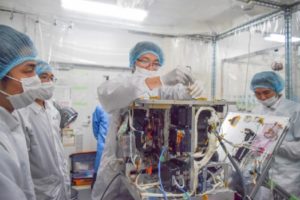 Vietnam's Ministry of Science and Technology (MOST) has signed a Letter of Intent (LOI) with Airbus Defence and Space that allows both parties to cooperate on space and satellite areas of interest, according to a report published in SpaceTechAsia.com.
Areas of possible interest for cooperation between Vietnam and Airbus include the exchange of information on Earth observation issues, convening and participating in scientific and technical events, and joint research into satellite technologies.
"Airbus and Vietnam are already partners via the VNREDSat-1 satellite and with this recently signed LOI, we are able to support the development of Vietnam's space industry further. This agreement will allow us to continue working together on topics related to Earth observation and satellite technology, helping to strengthen our close relationship," said Nicolas Chamussy, Head of Space Systems at Airbus Defence and Space, and quoted in SpaceTechAsia.com.
Vietnam and Airbus Defence and Space already enjoy a long history of working together. Airbus was awarded the contract for Vietnam's first Earth observation satellite, VNREDSat-1, in 2010. VNREDSat-1 was launched in May 2013 and is used for environmental monitoring, monitoring natural disasters, and managing land and ocean resources.
The Vietnam-Airbus VNREDSat-1 agreement includes a bilateral cooperation arrangement between the French satellite manufacturer and the Vietnam Academy of Science and Technology (VAST). This arrangement includes academic and on-the-job training programmes for Vietnamese engineers and technology transfer to Vietnam.
Airbus Defence and Space also supports the development of two satellite engineering-themed degree programmes at the University of Science and Technology in Hanoi (USTH).