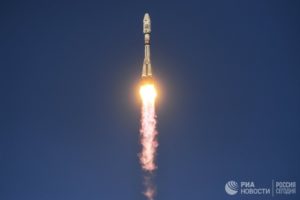 Engineers of the Progress Rocket Space Centre headquartered in the city of Samara are working on a new way of putting nanosatellites into orbit, says Dmitry Baranov, the acting general director of the Centre.
According to the new technique, nanosatellites will be delivered to orbit in the transfer compartment of the Soyuz-2 rocket as an associated payload when launching larger satellites.
The transfer compartment connects the third stage of the rocket with its forward part, which consists of the upper stage with the satellites attached to it. When the upper stage is jettisoned from the third stage of the rocket, the transfer compartment is separated. Nanosatellites are normally attached to the upper stage and the main payload using a special frame. Nanosatellites have never been launched inside the transfer compartment.
Baranov has not specified how many satellites can be launched this way as their number and size will be determined for a particular order. He has also said that the Progress Rocket Space Centre is ready for collaboration with potential customers.
The Russian record for the largest number of satellites put into orbit by a single rocket was set on July 14, 2017, when Soyuz-2.1a with the Fregat upper stage put 73 satellites into three different orbits.