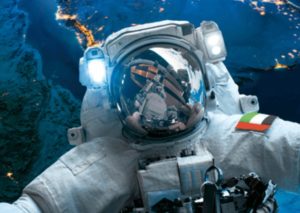 A team from the UAE's Mohammed bin Rashid Space Centre (MBRSC) consisting of Emirati officials and nine astronaut candidates are now in Russia, according to Russian state space agency Roscosmos.
The nine Emirati astronaut candidates will now undergo further selection tests and medical evaluations by Russian specialists. From that group the final two candidates will be selected to undergo extensive astronaut and mission training in preparation for a stay in the Russian module of the International Space Station (ISS) scheduled to commence in April 2019.
"The contenders' medical selection will last three weeks. Following the results of the medical examination, two candidates will be selected. The training of a UAE cosmonaut and his substitute for a flight to the International Space Station will begin in August 2018," Roscosmos said in a 31 July 2018 statement to TASS, the official news agency of the Russian Federation.
Once the final Emirati candidate is selected from the final two, he or she will be launched to the ISS on board a Soyuz MS-12 manned space launch vehicle and will spend seven to ten days in orbit, and will enter the history books as the first ever astronaut from the UAE.
Upon completing his or her mission, the Emirati astronaut will be returned to Earth on board a Soyuz MS-10 spacecraft.
Roscosmos and the UAE Space Agency signed an agreement on Russian training of Emirati astronaut candidates in June 2018, and since then progress has been rapid. Only recently over 3000 Emiratis applied to join the UAE Astronaut Programme, and after a few months of selection rounds the final nine are in Russia.
Earlier in July 2018 the UAE Space Agency signed a letter of intent with the U.S. national space agency, the National Aeronautics and Space Administration (NASA), with aim of sending Emirati astronaut candidates to Houston for additional human spaceflight training in the future.