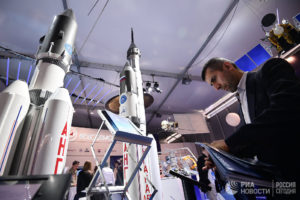 The Khrunichev State Research and Production Space Center has signed contracts for the production of 12 Angara-A5 heavy-lift launch vehicles. They are to be produced at the Center's Production Association Polyot enterprise in the city of Omsk.
According to Nikolai Sevastyanov, Khrunichev Space Center Chairman, Board of Directors, 12 launch vehicles have been confirmed so far, but about 27 Angara-A5 launches will be necessary to update the Russian orbit group until 2027.
According to Sevastyanov, the company needs to complete the establishment of the closed-loop serial production of the universal rocket modules for the Angara rocket at the Production Association Polyot by 2023. In this case, it will be possible to launch up to eight Angara-A5 rockets and up to two small-lift Angara-1.2 launch vehicles per year after 2024 from the Plesetsk and Vostochny cosmodromes. 'In order to do it, the Omsk-based Production Association Polyot is developing closed-loop serial production, which will reduce the production cost of Angara by about 40%', Sevastyanov specified.
He also added that Roscosmos enterprises had begun further modernization of the Angara-A5 rocket so that it could put up to 27 tons of cargo into low Earth orbit and up to 4 tons into the geostationary orbit.
The Angara rocket complex provides for the development of a rocket family with small-lift, medium-lift and heavy-lift launch vehicles. The Production Association Polyot is tasked with developing two main modules for Angara rockets: a universal rocket module, as well as a small-lift launch vehicle as part of this rocket family.