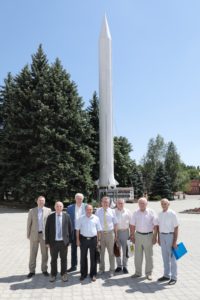 The Yuzhnoye Design Office and the National Metallurgical Academy of Ukraine signed an agreement on scientific and technological as well as educational cooperation. The goal of the agreement is a business partnership and joint development of the scientific and innovation potential of both Yuzhnoye and the Academy.
The agreement provides that Yuzhnoye and the Metallurgical Academy shall conduct joint work and scientific research under various programmes. These include additive manufacturing of spare parts of the rocket and spacecraft hardware using 3D printing and numerically controlled machine tools, joint development of ground equipment and special purpose transportation means, specialist training in space systems and technologies, as well as advanced training and retraining of industry professionals.
The agreement provides for the creation of a dual education research and production center of the Academy at Yuzhnoye with the aim of putting together the Academy's science and technology potential and the material base and the design office for specialist training and scientific research.
The results of joint scientific and technological research are planned to be implemented in the Academy and the Office activities. In addition to that, specialist literature will be published and seminars, conferences, and other experience-sharing events will be organized.
At the signing ceremony, the Yuzhnoye Design Office was represented by its director general Alexander Degtyaryov, the chief engineer and first deputy of the director general Mikhail Bondar and others. The Metallurgical Academy delegation was represented by the Academy rector, member of the Academy of Sciences of Ukraine professor Alexander Velichko, the first vice-rector Valeriy Ivashchenko and other senior Academy staff.
СохранитьСохранить