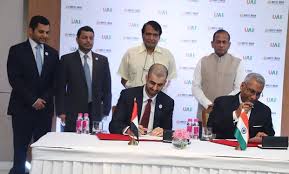 Omar bin Sultan Al Olama, UAE's Minister of State for Artificial Intelligence, and Deepak Bagla, Managing Director and CEO of Invest India, signed a Memorandum of Understanding (MoU) on 28 July 2018 in New Delhi to establish a bilateral Atrificial Intelligence (AI) Bridge that hopes to create U.S.$20 billion in economic benefits over the next decade.
The UAE-Indian AI Bridge will be a vehicle for discussion and the exploration of  options for the UAE and India to grow their AI economies, according to an announcement after the signing ceremony by Invest India, the national investment promotion agency of the Indian government.
Omar Al Olama said that in the coming years, "how a country chooses to embrace Artificial Intelligence will have a tremendous impact on its ability to innovate and prosper. Data and processing will be a catalyst for innovation and business growth and serve as the backbone of more effective and efficient service delivery system."
Deepak Bagla said that India is, "the world's fastest expanding market opportunity with its talent pool of human capital, well-acknowledged for innovation – and the UAE, a hub of cutting edge technologies – are natural partners in the field of Artificial Intelligence."
Bagla added that, "Artificial Intelligence is going to play a critical role in our lives and this partnership will provide solutions not only for the citizens of India and the UAE, but for the entire world."
The collaboration launched on 28 July will focus on open bilateral engagement through a Joint Working Group of the two countries and "monitor the landscape of Artificial Intelligence to identify emerging trends and policy concerns. There is potential to work together with governments, technology start-ups, academia, and industry associations to understand how technology is evolving, what it means for different sectors and how its adoption can be accelerated," the Invest India brief after the signing ceremony said.
The UAE-Indian MoU aims to foster innovative ecosystems by "creating an enabling environment for all stakeholders to invest in Artificial Intelligence" and look to the future by playing a catalytic role in the development and adoption of breakthrough technologies.
The UAE has already established a national AI strategy, and given the small size of the country and its industrial and scientific base, is actively seeking cooperative partnerships with leading AI powers around the world.