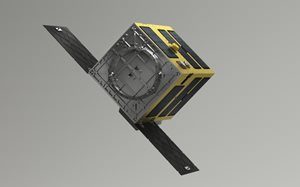 Astroscale has reached a key milestone in its quest to develop space debris removal services in order to secure long-term spaceflight and sustainability.
The company has established a ground station in Totsuka, Yokohama for sending and receiving satellite data. This is the first ground station that the company has constructed and it represents an important step towards its mission of monitoring and removing space debris. The ground station will be primarily used for the operation of ELSA-d, Astroscale's pioneering debris removal demonstration satellite, scheduled to launch in late 2019.
The ground station's high-performance data transmission and reception services in S-band and X-band frequencies will also be utilised by other Low Earth Orbit (LEO) satellites, with the number of LEO satellites slated for launch on a huge growth trajectory.
Astroscale's ground station employs a hexapod antenna – a system for controlling the orientation with six jacks. The hexapod antenna eliminates angle limitations and restricts the operation of conventional, two-axis controlled system antennas. Astroscale's technical team which includes experts in communications, machine control and networks, successfully led the construction of the hexapod antenna, which will enable stable communications with satellites travelling in low-Earth orbit at speeds of approximately 28,000 kilometres per hour.