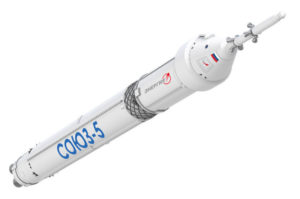 On July 22 the Rocket and Space Corporation Energia, the Progress Rocket Space Centre and the 'NPO Energomash' Joint Stock Company were reported to have started developing the Soyuz-5 launch vehicle. In order to carry out crewed launches of the rocket from Baikonur, it is necessary to restore the mobile service structure at the launch site created for the Zenit rocket. The service structure was created for putting cosmonauts inside crewed spacecraft and was built during the Soviet period.
Soyuz-5 development deadlines are fixed: the first launch is to take place in 2022. This means that the modernization of the launch site is to begin two years earlier, in 2020.
It is assumed that modernization works will be paid for by Kazakhstan. The Kazakh government is ready to allocate $314 million for it.
The Soyuz-5 launch vehicle will be capable of placing up to 17 tons of payload into low Earth orbit. General Director of the Roscosmos State Corporation Dmitry Rogozin previously said that the rocket would deliver into orbit commercial and scientific satellites, rather than military cargoes. Also, Soyuz-5 will be utilized for putting into orbit the new Russian crewed Federatsiya ('Federation') spacecraft.
Before the launch complex is modernized, further launches of Zenit rocket will be possible. This will be possible if the Russian company S7 Space, the launch operator for the Sea Launch projects from the platform in the Pacific and the Land Launch from Baikonur, enters into a contract for the supply of Russian components for this type of rockets that are assembled in Ukraine.
The Zenit Launch vehicle used to be launched from the Pacific Ocean between 1999 and 2014. Later, due to the increased tensions between Russia and Ukraine, the project was closed. S7 Space planned to obtain permission from the Russian government to supply Russian rocket components for the restoration of Zenit production in Ukraine, but it was extended indefinitely. Without the government's decision, Roscosmos is not ready to sell S7 Space Zenit rocket components.