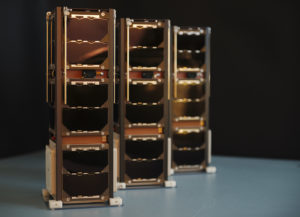 Sky and Space Global (SAS), the New Space satellite communications company listed on the Australian Stock Exchange, successfully demonstrated the capabilities of its Diamonds test-bed Cubesats to the Caribbean Telecommunications Union (CTU) in Guyana, opening up the possibility of offering its narrowband communications service to the Caribbean.
Prior to the demonstration, the CTU assessed the suitability, applicability and possible use of the SAS narrowband platform for the region. The demonstration then took place at the ICT roadshow in Georgetown, Guyana, at the invitation of the Guyanese Minister of Communications and in front of in front of key officials and ministers.
Following its success, SAS and the CTU have entered into discussions focused on the provision of connectivity services to the Caribbean region; their commencement allows SAS to move forward towards negotiating new commercial agreements.
This technology could potentially be used in rural areas throughout the Equatorial region to help ensure a prosperous economy for countries throughout the Caribbean, despite limited preexisting communication infrastructure.
Nano-satellite narrowband services to the Caribbean region will be provided by the Pearls constellation once deployment commences in 2019.
The CTU is an inter-government treaty organisation which supports the development of the ICT sector across the Caribbean.
"We are proud to have been invited by the communication minister of Guyana to demonstrate our advanced telecommunication service technology. We are also delighted to announce that our demonstration to the CTU concluded positively and we are now entering further discussions regarding the provision of our network to the Caribbean community," said Meir Moalem, CEO of Sky and Space Global. "We are equipped and well positioned to meet the demand of the region and look forward to reaching next stages of negotiations."