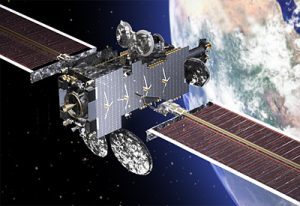 Arabsat will assist U.S.-based company Cloud Constellation Corporation in providing space-based cloud data storage with the aim of improving data storage security.
Arabsat and Cloud Constellation announced last week that they have entered into a Memorandum of Understanding (MOU) to develop a go-to-market strategy for enterprise and government customers in the Middle East, Europe, Africa, and Central Asia.
Cloud Constellation's SpaceBelt™ Data Security as a Service (DSaaS) is a patented, scalable, space-based cloud service for securing high-value and highly sensitive data assets by providing data storage in space and global, secure managed network services.  According to the company, this service mitigates the risk of a data breach by providing global isolation of a customer's data from inherently vulnerable global terrestrial networks.
SpaceBelt DSaaS uses a constellation of 12 satellites in low earth orbit (LEO), networked with a redundant, self-healing optical ring for high availability. This SpaceBelt network communicates with secure access points located at enterprise, government, and military facilities via connectivity with geosynchronous satellites (GEO). It can offer individual cloud storage satellites and constellations to address an organization's storage and/or sovereignty requirements.
Under the terms of this new MOU, Cloud Constellation will leverage Arabsat's market position and expertise to provide SpaceBelt DSaaS to a broad range of customers throughout the Gulf region.
"Our collaboration with Cloud Constellation Corporation is coming from a profound belief in the importance of data security," said Wael Al-Buti, chief commercial officer of Arabsat. "We are very proud to be working on this with them, especially with  their innovative solution to deliver best-of-class data security services."
"We are pleased to be partnering with such a highly recognized and respected brand as Arabsat," added Dennis R. Gates, Vice President of channel management and marketing for Cloud Constellation. "Arabsat's customers represent such a geographically diverse profile that I am confident our joint go-to-market effort will result in a great appreciation for our combined capabilities and a strong demand for SpaceBelt services.