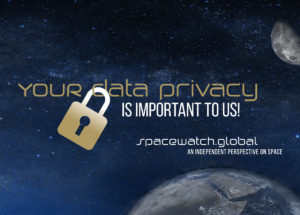 On 25 May 2018, the EU General Data Protection Regulation (GDPR) is effective. The data protection for data subjects in the European Union is thereby significantly strengthened. As your information portal for the space industry, we have always attached special importance to the security of your personal data.
The GDPR is the most important data protection regulation in Europe since the EU Data Protection Directive of 1995. After a two-year transition period, the GDPR now replaces the obsolete EU Data Protection Directive and, to a large extent, national data protection laws. Unlike a directive, a regulation is directly enforceable in all EU Member States without the need for national transposition laws. In this respect, an EU-wide uniform rules on data protection was created for the first time. Also Switzerland has fully subscribed to this reform.
It raises the level of data protection in the EU Member States and, as a result, strengthens the rights of those affected as well as increases the obligations on businesses.
What does that mean for you?
In order to better understand the different aspects and implications of the new Regulation, we have thoroughly redesigned our Privacy Policy, giving you an overview of SpaceWatch.Global's processing of your personal information and your extended privacy rights.
We are aware that care and transparency are the basis for a trusting cooperation with our readers. Compliance with laws and regulatory requirements in general is just as important to us and our employees as the lawful and sensitive handling of your personal data in particular.
For more information about the specific handling of your personal data, please refer to our privacy policy.
We ask for your understanding that the complete privacy statement is only available in German.
The SpaceWatch.Global team will be happy to answer any of your questions.
To subscribe to our bi-weekly newsletter (according to GDPR), please follow the LINK or click on the graphics below.