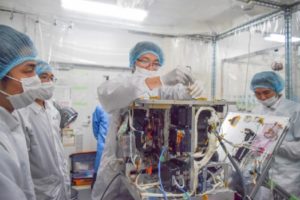 Vietnam has formally joined the Japanese-led Asian Microsatellite Consortium (AMC) with the completion of its MicroDragon microsatellite, a move that will help the Southeast Asian country develop the necessary technologies and human capacities to design and produce further microsatellites, the Vietnam Space Center (VNSC) announced on 9 April 2018.
The announcement follows reports that the VNSC has completed the construction of its first indigenously built microsatellite, called MicroDragon, that will be launched by the Japanese Aerospace Exploration Agency (JAXA) later in 2018.
The VNSC, which reports to the Vietnamese Academy of Science and Technology, represents Vietnam at the AMC, in which it takes part in delegation exchanges, conferences and symposiums, share satellite data with AMC partners, and exchange satellite-derived information for responding to and managing natural disasters and environmental issues. Furthermore, membership of the AMC allows Vietnam to tap into a network of expertise and technologies that will enable the future design and manufacture of Earth observation microsatellites.
In its 9 April announcement, the VNSC said that membership of the AMC will enable Vietnam to construct other microsatellites of 50-100 kilograms mass, and reduce costs and programme schedules as well. These microsatellites, in turn, will allow Vietnam to become a more sophisticated and advanced user of Earth observation satellites for environmental monitoring, land, sea, and resource management, disaster response and management, and presumably (though not explicitly mentioned by VNSC), national security applications.
The AMC was formed in November 2016 and founded by Yukihiro Takahashi, a professor at Hokkaido University in Japan, and members include institutions and government agencies from Bangladesh, Indonesia, Malaysia, Mongolia, Myanmar, The Philippines, and Thaliand, as well as Japan and Vietnam. The AMC is one aspect of Japan's systematic engagement with countries in Southeast Asia – as well as Eurasia – using space cooperation, technology transfer, and human capacity building in order to expand its influence as well as counter the use of space technologies in China's foreign policy.
At present, Vietnam operates two communications satellites – Vinasat-1 and Vinasat-2; an Earth observation satellite called VNRedSat-1a, and one Picosatellite called PicoDragon. Apart from the imminent launch of MicroDragon, Vietnam is also expected to take control of two high-resolution Earth observation satellites called LOTUSat-1 and LOTUSat-2, both built by Japan, and VNRedSat-1b that was supposed to have been launched in 2017, but has been delayed for unspecified reasons.