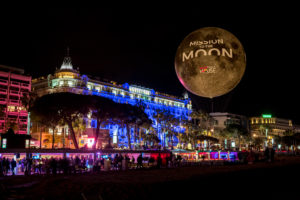 PTScientists has signed Red Bull Media House as the exclusive media partner for Mission to the Moon, enabling them to bring the world on their journey to the Moon.  The announcement was made at MIPTV in Cannes, one of the largest trade shows for TV and media.
New-space company PTScientists aims to make history with the first private space mission to land on the surface of the Moon, and will also pay tribute to the Apollo programme by visiting the original lunar roving vehicle from Apollo 17. PTScientists will capture the first high-resolution images of the 'Moon buggy' since it Gene Cernan and Harrison Schmitt left it on the lunar surface in 1972.
"We want to create an "Apollo moment" for a new generation," comments PTScientists' CEO and Founder, Robert Boehme.
Mission to the Moon will see a pair of Audi Lunar Quattro rovers delivered to the Moon's Taurus-Littrow valley by PTScientists' ALINA spacecraft, which will then double-up as communications base station. A Vodafone 4G lunar-surface network will allow the rovers to send data back to the lander, which will then transmit it back to Earth.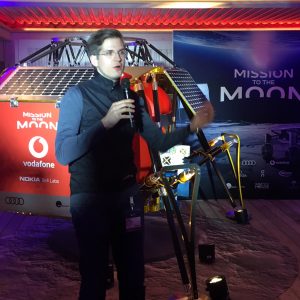 "Red Bull Media House is a great addition to Mission to the Moon" says Boehme. "These days competition for attention is fierce, and with so many devices and media forms available we needed to find a media partner who could engage people on multiple platforms, reaching them wherever they are."
Red Bull Media House will develop, produce and license the mission's live broadcasts, behind the scenes footage, feature documentaries and additional content, as well as managing the project's global conversation across all social channels and media outlets around the world. Their coverage of Mission to the Moon will include:
Three LIVE Programs featuring multi-device compatible, HD images from outer space from various camera angles including the start of the mission from Earth, the landing of ALINA on the Moon and the first glimpse of Apollo 17's lunar roving vehicle, captured by the Audi Lunar Quattros;
A three-part documentary series of 52-minutes each chronicling the journey of the space pioneers from inception to accomplishment, produced by Terra Mater Factual Studios, producer of "The Ivory Game" (shortlisted for the best feature documentary Oscar 2017)
Various hardcover and print editions as well as audio and musical events and licensing assets
"People often share their memories of where they were when they watched Apollo 11 land on the Moon" says Boehme. "We want Mission to the Moon to provide that sort of excitement and inspiration for the next generation of space pioneers".
Red Bull Media House will be the mission's exclusive global media production and distribution partner. All related media products are available for licensing to partners who are inspired by this mission.