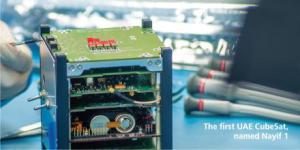 Dr. Koppillil Radhakrishnan, former Chairman of the Indian Space Research Organisation, ISRO, and Dr. D. Gowrisankar, ISRO's Deputy Director for International Cooperation, will make a presentation on India's Mars Orbiter Mission at the World Government Summit in Dubai later this month.
Dr. K. Sivan, current Chairman of ISRO, told a group of visiting UAE journalists here [Bangalore] today that the ISRO's scientific presentation at the summit is the outcome of ongoing cooperation between the space programmes of India and UAE, which is set to reach new heights in the coming months.
A Joint Working Group, JWG, of the UAE Space Agency, UAESA, and the ISRO, held its first meeting in December 2017 and "identified priority areas of cooperation," Dr. Sivan said. He identified cooperation possibilities between the two agencies in "remote sensing applications, satellite platforms, the UAE's Mars mission, satellite navigation and sounding rocket".
The JWG was set up following a Memorandum of Understanding, MOU, on cooperation in the exploration and use of outer space for peaceful purposes signed between the ISRO and the UAESA on 11 February 2016 during a visit to New Delhi by His Highness Sheikh Mohamed bin Zayed Al Nahyan, Crown Prince of Abu Dhabi and Deputy Supreme Commander of the UAE Armed Forces.
Dr. Sivan described the UAE's planned Mars mission as an instance of "very good vision" and compared it to the vision unveiled for India's own space programme 50 years ago by Dr. Vikram Sarabhai, who is known as the father of Indian space exploration.
As part of future cooperation in space matters between the UAE and India, ISRO officials envisaged the possibility of educating and training UAE students at the Indian Institute of Space Science and Technology in Thiruvananthapuram. "We want to work together for mutually beneficial space cooperation with the UAE," the ISRO Chairman said The ISRO is currently engaged in space cooperation with 42 countries and it has signed 210 bilateral agreements with these countries to facilitate such cooperation. "The ISRO is with the UAE Space Agency ever since its inception and a senior ISRO official Dr. M. Annadurai, who is leading the satellite programme of ISRO, attended the inaugural function of the UAE Space Agency," Dr. Sivan recalled.
In February last year, a nanosatellite from the UAE, 'Nayif-1,' meant for collecting environmental space data was launched as one of the co-passenger satellites in the ISRO's Polar Satellite Launch Vehicle, PSLV.
//WAM/Krishnan Nayar/PH