A message from ThorGroup Management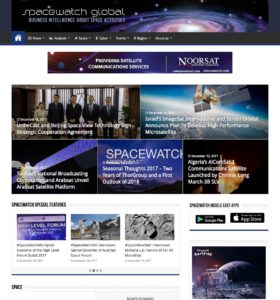 In our last Seasonal Thoughts 2017 we spoke about our recent past and where we stand today. Now, we are ready to disclose a few of our plans for next year. As of January 2018 we will go global – SpaceWatch.Global!
SpaceWatch Middle East will take on a broader scope but don't worry – we're not leaving the Middle East market! SpaceWatch.Global will become our umbrella publication. Our regional focus on the Middle East space and cyber market will remain unchanged, but we will also reach out to other emerging regions, such as Africa, Russia & CIS and South East Asia. We are thrilled by the activities and the momentum that space has achieved around the world and we want to explore what is happening in these developing markets.
We will also be continuing our SpaceWatch Themed Weeks in 2018. In January, we will send out a message about the topics we plan to cover and these will include a few very inspiring areas – such as Space Archaeology and the space insurance market. For our features we are reaching out to you as industry experts and specialists. Education and inspiration are very important to us, and we want to go one step further.
The SpaceWatch.Global team is quite small so we would like to put out a call for you to work with us! We are looking for young and excited people from around the world to work with us on a regular basis. If you have a background in space engineering, space policy, geopolitics and space or cyber and space, then it may be worth having a chat with our experts.
We will give you coverage in our magazine, we will send you to cover events and we can offer you some pretty cool contacts in the industry. If that excites you, then please drop us a note with your thoughts on [email protected] .
Meet With Us!
If you like to meet with the team in person, drop us a note to request a meeting at CabSat 2018 Dubai (January 14-16, 2018) , Satellite 2018 Washington DC (March 12-15, 2018) , Global AeroSpace Summit 2018 Abu Dhabi (April 30- May 2, 2018) or Bodensee Aerospace Meeting 2018 Zurich (March 22, 2018).
Thank you and stay tuned. Ad astra!
The Management of ThorGroup and the publisher and editorial team of SpaceWatch Middle East
Original published at: https://spacewatch.global/2017/12/season-thoughts-2017-spacewatch-global/