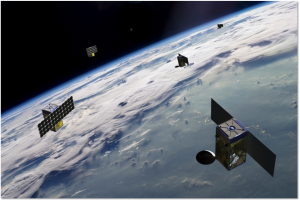 The Space Alliance, formed by Thales Alenia Space (Thales 67%, Leonardo 33%) and Telespazio (Leonardo 67%, Thales 33%), today signed a partnership with the US-based company Spaceflight Industries which includes the following elements:
A minority investment in Spaceflight Industries, which through its BlackSky business, has developed a geospatial platform and plans to build and operate a constellation of 60 small high-resolution observation satellites featuring very short revisit times;
The creation of an industrial Joint Venture in the United States between Thales Alenia Space and Spaceflight Industries specialized in the production of small satellites;
The implementation of a Joint Cooperation and Marketing Agreement between Telespazio and BlackSky enhancing their respective product and analytics portfolios on the market.
"This partnership reflects the 'new space' transformation strategy being implemented by Thales Alenia Space, with the ultimate aim of becoming a major manufacturer of small observation satellites constellations featuring short revisit times, both in Europe and the United States," said Jean-Loïc Galle, President and Chief Executive Officer of Thales Alenia Space.
"This joint cooperation and marketing agreement gives both Telespazio and BlackSky a strong market boost to access leading markets in the geoinformation domain with highly innovative products," added Luigi Pasquali, Chief Executive Officer of Telespazio.
"This partnership with two leaders in the European space industry accelerates our BlackSky business plan by funding our constellation, minimizing our constellation production risk, and reducing our time to market within key market segments," said Jason Andrews, Chairman and Chief Executive Officer of Spaceflight Industries.
The Earth observation market is undergoing constant changes, with an increasing focus on requirements that combine high resolution and much shorter revisit times. Thales Alenia Space, Spaceflight Industries, and Telespazio are combining their strengths to offer a constellation of small satellites that will be deployed in conjunction with a smart ground segment to offer services at very competitive prices by calling on massive and automated data/image processing. The result is a disruptive product, designed not only for traditional customers in the commercial observation market, but also to support the development of new vertical B2B markets, such as mining, energy, transport, finance, agriculture, industry and environment, and even B2C.
The agreement will be finalized pending all required regulatory authorizations.
Dedicated to improving our planet and society from the high vantage point of space, Spaceflight Industries' distinct approach removes the complexities and high cost that once prohibited the majority of organizations from getting to space and observing our planet. Through its services Spaceflight and BlackSky, the company is enabling timely and affordable access to space while redefining how we observe our planet in real time across every spectrum. This combination of innovative satellite design, rideshare launch offerings, global communications networking, and a geospatial intelligence platform provide the insights that transform how we view ourselves and the planet on which we live. Founded in 1999, the Seattle-based company has a well-earned track record of success on a global scale.
Original published at: https://spacewatch.global/2017/09/thales-alenia-space-telespazio-spaceflight-industries-partner-accelerate-blacksky-geospatial-platform-high-revisit-rate-constellation/