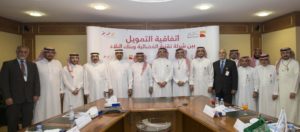 A joint cooperation agreement has been signed between Bank Albilad and TAQNIA space which includes a long-term financing process to provide satellite Internet communications, voice communication, and satellite TV reception services.
TAQNIA Space aims to transfer and market satellite technology, support the sustainable development of GDP, diversify the economy, create high-quality jobs, and attract outstanding talent in related fields.
The vision of the company is to be a leader in the Middle East in the field of satellite communications and remote sensing in cooperation with King Abdulaziz City for Science and Technology (KACST)
The agreement was signed by Abdulaziz Al-Eneizan, CEO of Bank Albilad, and Eng. Abdullah Al-Osaimi, Chief Executive Officer of TAQNIA Space, on August 10, 2017, in the main office building of Bank Albilad in Riyadh.
Al-Eneizan pointed out that the financing of such national projects, which carry a qualitative leap to localise technology and support national companies, is at the core of the Bank's plan and strategy to contribute effectively to the implementation of the plans and vision of the Kingdom of Saudi Arabia through the auspices of Vision 2030. This enhances the Bank's ability to establish and build strategic relationships with one of the most specialized Saudi companies in the field of technology.
CEO of TAQNIA Space, Eng. Abdullah bin Mohammed Al Osaimi, mentioned that the partnership with Bank Albilad, which is one of the leading banks in the Kingdom of Saudi Arabia for bringing satellite technology to the country, comes within the Vision 2030 initiative. He added that the technical solutions that will be provided by the company are in the field of satellite communications and remote sensing, and is fully Saudi-owned. The satellite communications initiative will use high-speed space communications with High Throughput Satellite (HTS) technologies to provide voice communication and television reception services.
Saudia Arabian Airlines will be the first airline in the world to use these satellite communications technologies on all its aircraft for domestic and international flights. Similar projects will be announced in aviation and maritime transport for local and international customers.
Original published at: https://spacewatch.global/2017/08/saudi-arabias-taqnia-space-signs-agreement-bank-albilad-satellite-financing/