In the latest SpaceWatch Middle East interview, Helen Jameson talks to Claudia Kessler, CEO of HE Space and initiator behind Die Astronautin, about her vision for a German woman in space.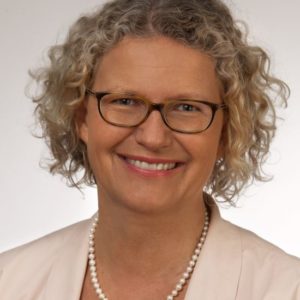 Congratulations on the huge success of the Die Astronautin initiative!
Thank you! We are now very busy starting to work on the training plan. We will then go on to parabolic flights in August at Star City. I'm excited to say that we are actually offering the opportunity for members of the public to go to experience a parabolic flight and a visit to Star City with our trainees.
Where did the passion come from for the initiative?
Well it's something that has been with me throughout my life. I always wanted to be an astronaut. However, I was always the wrong age or it was always the wrong time when selections happened. I was too young or too old. I had always worked in male dominated areas, often the only woman. I am a space engineer, and I started Women in Aerospace in 2009 to promote women in the aerospace sector into management positions and to make them altogether more visible.
My heart has always been with human spaceflight, and then when the German astronaut Alexander Gerst went to the ISS there was such huge media interest in Germany. Everyone was so interested. So that's when I had the idea to attempt to fly the first German woman into space. That was in 2014, and then I started to talk to DLR and ESA and the Ministry. I wrote them all letters stressing that the next thing they had to do was to fly a German woman and said 'yes, you're right but we can't do it because there are no German women who qualified in the last ESA selection' – to which my response was to push further. After two years of pushing, I thought this isn't going to happen. I did talk about the idea of starting a private initiative but I was told to wait. However, after waiting once again, I decided to take matters into my own hands and I got a group of people together and I said we were going to do it regardless. However, I don't think that any of us expected it to escalate as much as it has. Everyone is surprised. We don't have the millions yet, but we do have small sponsors who will help us through the planning process.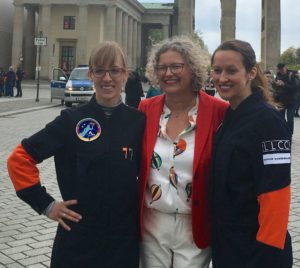 Has the crowdfunding element surprised you? It's not an easy way to raise funds. Was most of the funding from the German population?
Yes. It was mostly from the German population. It was mostly the younger and much older generations that contributed, which was really nice and that is exactly what we wanted. We wanted to keep it realistic – small amounts and lots of people contributing. That's what's impressed everyone else. The big guys said that we would never make it. Two weeks before the end of the campaign, we were at 25,000 euros and they thought it was never going to happen and then it did happen! That's how we will go on, making small amounts through the crowdfunding model. We will go on in our German way!
It's obviously a mixture of private backers and crowdfunding, but you are speaking to bigger sponsors for the launch and other related things?
Our goal is to have, by the end of this year, over a million euros of guaranteed support and to sign a launch contract at the latest, next year. We are talking to launch service providers. We are talking to everyone that provides human access to space. There's a lot going on right now in the launch sector and not everything will be ready by 2020, but there will be quite a lot of options commercially available by then.
Do you envisage the Die Astronautin model being rolled out to other countries or space agencies?
We absolutely do. We see the entire initiative as a pilot project for other countries, for other future human spaceflight missions. We are learning a lot. We are gaining a wealth of expertise right now in how to organise all these things privately instead of through space agencies. It's a first in Europe. It is definitely our plan to roll this out to other nations or commercial entities. For example, a company might want to run a competition and the winner gets the opportunity to participate in a mission. There are lots of models that can be used.
Will the winners will effectively be space tourists, will they potentially go on to a career in astronautics – or is this really an experience?
There is a great deal of difference between a space tourist and a career astronaut. The expression that I like most is 'visiting scientist'. The other one we can use is 'payload specialist' or 'spaceflight participant'. This will not be a tourist flight but a scientific mission. We already have several scientists on board that are working with us to help to develop experiments and hardware for us. On one side, we are looking at medical research. We don't have enough medical data on women in space and especially not German scientists, because they don't have first hand access to this kind of data. Psychological data is another important aspect we will explore. We will also be cooperating with Airbus, that has this little science box that you can fly. So there will be some commercial experiments, there might be material science, fluid science – whatever the sponsors that we are working with would like to carry out. It could be food or agriculture, for example.
You cannot do too much in ten days but we are also looking at different missions, whether it is ten days or sixty days. There are different options available right now. There's a lot to think about.
Can we talk a bit about the selection process. How tough was it for the candidates? Was the dynamic within the group different to what you would expect with men?
When we had the whole group together in September, we saw that it was surprisingly team-like. They were really supportive of each other, and became friends and I think they are even founding an organisation together. Those who were not going any further in the process were invited to the other events and a lot attended and are supporting it. Many candidates are in contact with each other. I think that is probably different from a male group – much less competitive and more team orientated.
As a recruitment specialist, what are your feelings on the progress of women in the space industry? Are you frustrated? Is it improving?
It's not going backwards but it's not moving forward as fast as I would like! That's one of the reasons why I started Women in Aerospace 20 years into my career. When I was a young engineer I thought I didn't need anything like that. I thought I was strong. I was an engineer – no support groups like that were necessary. Then, after 20 years in the space industry, I realised that nothing had changed! In Germany, this was particularly extreme.
I talk to women a lot. When my daughter was born 20 years ago, my husband stayed at home to take care of her. This was extraordinary and he was the only father there at kindergarten or school. When I talk to young women today, whose kids are young, I find out that it's still the same. They tell me their husband stays at home and he's the only male dropping off his children in kindergarten and school. So nothing has changed in all of that time. That's really frustrating.
Do you have any thoughts about women in aerospace in the Middle East region and how things are progressing there?
It's hard to say much about it as I don't know a lot. I have met some Middle Eastern women at space conferences but have not had much interaction with them. However, those I have met, I was very impressed with. They have a very good knowledge. It would be good to have more interaction in the future. The Die Astronautin project could be a really good pilot project for the UAE especially, as it can demonstrate how they can carry out an astronaut selection process. This could have a huge public impact.
In terms of a nationalistic viewpoint, what kind of feedback have you had from the German population?
It is overwhelming. We get letters and emails from people who love what we do. We are even printing photographs of the astronauts to be signed and sent to fans. They haven't even started training yet, but we have a lot of requests!
So you feel like you are inspiring the next generation of women to come into space.
Yes. Definitely. We are going to do that much more now by starting more interactive projects with girls. We are just at the start of these projects that will engage young girls and women.
What is next on the agenda for the selected candidates?
They are going to be part-time training because they will stay in their normal jobs until we have sufficient funding to ensure that we can buy a mission. It doesn't make sense for them to stop their normal jobs. It will start with basic training here in Bremen in the mock-up of the ISS for familiarisation. There will be a lot of theory as well because they are not space engineers. We will do all the basic engineering stuff so that they understand the physics and engineering side of things. Then we will carry out parabolic flights in August and in September we will do some more ISS training and we hope that they will spend time in the centrifuge.  Then we have some Lufthansa flight simulation training – we have a sponsor for that already. We have stress training, and some first aid and medical training, scuba diving and payload training and a lot of PR activities. We want to go to the US next year to see a launch and to look at all the transport possibilities and perhaps fit in a trip to Baikonour too. It's going to be hectic!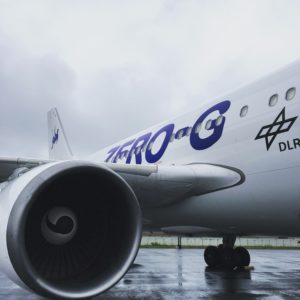 A Once in a Lifetime Opportunity Awaits!
Are you interested in joining the trainees on their trip to Star City and their Zero-G flight from 13-17th August? This experience could be yours and includes: hotel (half board), transfers, English-speaking space experts, trip organisation (visas, travel papers and preliminary talks), a visit to the Gagarin Cosmonaut Training Center and the opportunity to watch the trainees during their training session. The price, including the Zero G flight is 10.500 euros. Without the flight, it is 3.500 euros.
If this is for you, contact Inka Helmke ([email protected]). Interested parties must sign up before June 10.
SpaceWatch Middle East thanks Claudia Kessler, CEO of HE Space and initiator behind Die Astronautin, for the interview.
Original published at: https://spacewatch.global/2017/05/claudia-kessler/