Berlin Symposium Celebrates SmallSat Innovation
The prestigious Berlin-Brandenberg Academy of Sciences provided the backdrop for the 11th International Academy of Astronautics Symposium on Small Satellites for Earth Observation from 24-27 April.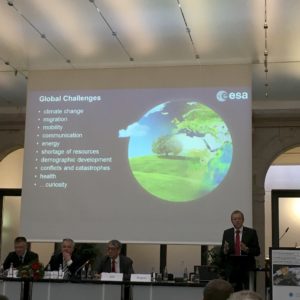 It was yet another successful gathering of more than 250 representatives from across the industry, government, and academic institutions of 37 countries, highlighting the fact that small satellites really are setting the satellite and space world alight.
The symposium featured a rich technical programme with more than 60 paper presentations across 15 sessions. There was also an exhibition that presented a veritable toolkit for those interested in developing a small satellite mission, comprising offerings on launch, ground services, and information processing.
The next generation of satellite engineers was encouraged during a highly competitive student conference which highlighted exciting new contributors to the space community, featuring six finalists from four continents.
A real highlight of the symposium was a keynote address from ESA Director General, Professor Jan Woerner, who delivered a speech on 'The Role of Small Satellites for United Space in Europe'. Professor Woerner spoke in detail about the ways in which mankind is using space to solve challenges here on Earth – for information, communications, science, technology, education, inspiration and also pure curiosity.
In his remarks, Professor Woerner touched on many different subjects, but emphasised the need for cooperation and the fact that no country can go it alone. There is a need to unite to achieve European goals in space. He also addressed the new space era that is upon us with new space players, new technologies and methodologies and new applications. Professor Woerner focused on ESA and how it must act as the agency, broker, mediator, and enabler for global cooperation.
To this end, an EU-ESA Joint Statement has been issued focused on the full integration of space into European economy and society, promoting a globally competitive European space sector, and ensuring European autonomy in accessing and using space. Achieving these outcomes will require out of the box thinking and the application of fundamental research to real-world problems and innovations.  Professor Woerner provided several examples, including how special/general theories of relativity are impacting advances in satellite navigation capabilities, as well as how a seamless grid of innovation is fueling business incubation across the whole enterprise lifecycle, evidenced by technology transition from space programs to commercial applications as in the case of the imaging system on Philae now being used for early forest fire detection.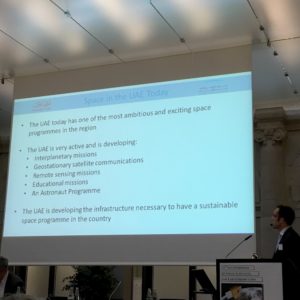 A series of technical sessions included a diverse array of papers covering a wide range of topics. Interestingly, many of the topics covered in the sessions were strongly linked to Professor Woerner's address, giving them real context and four important points resulted from the overall sessions.
Small satellites can be used for important science and commercial missions, but their employment and end-user application considerations are essential for developing the appropriate capability.
Smallsat market growth using nano/microsatellites is principally being driven by Earth observation (today) and communications (coming), however, there are many new applications being investigated and demonstrated, such as in disaster monitoring, maritime domain awareness and climate change.
The business model for space-based solutions is rapidly evolving as private sector investment and commercial market opportunities are producing myriad new endeavors outside of traditional government support. NewSpace, as it is called, is driven by combination of new business philosophies, aggressive technology management, alternate framework considerations, and external (private) financing, where space is regarded as a means for delivering new applications and accessing new markets or cost models.
It was noted that there remains both obstacles and enablers to advancing the use of small satellites to provide global value. Concerns around issues such as space debris and the complicated regulatory environment for spectrum access still must be tackled. On the other hand, work was presented that highlighted areas of optimism and new endeavour.
The event was a great success, and gave the industry a better sense of the direction that the small satellite industry and the space industry in general, is heading. It also served to underline the sheer amount of innovation and talent that the industry is party to as well as the many challenges that must be surmounted.
The symposium will be held again in 2 years and it will be fascinating to see how the smallsat market has developed over that time.
SpaceWatch Middle East thanks Symposium Chief Rapporteur, Aaron Q. Rogers (John Hopkins University/Applied Physics Laboratory for his summary.
Original published at: https://spacewatch.global/2017/04/11th-iaa-symposium-small-satellites/