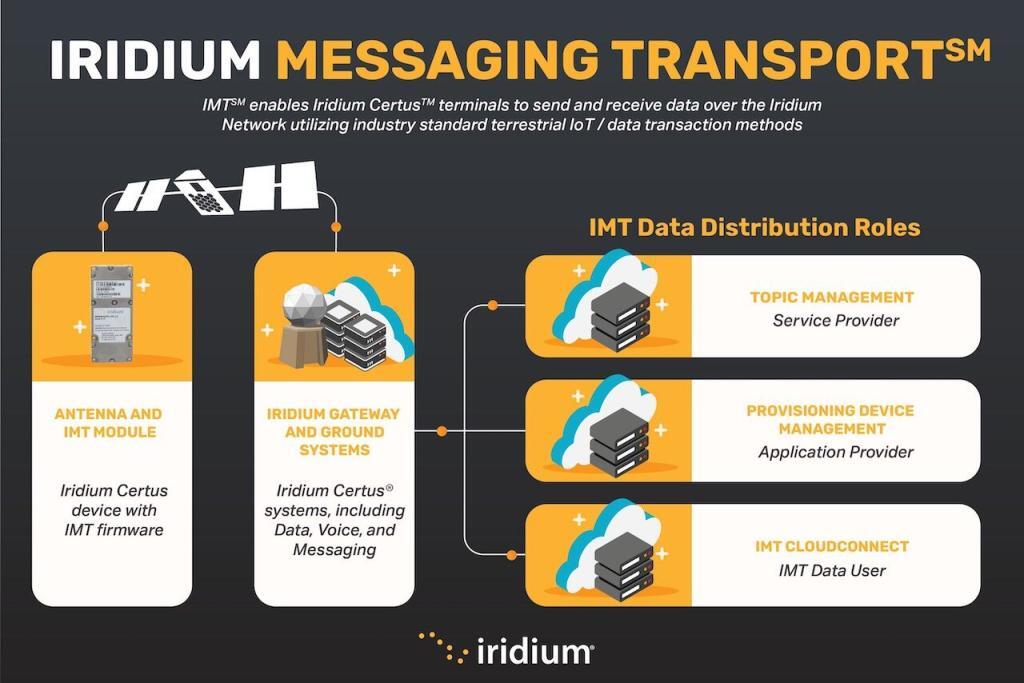 Edinburgh / McLean, Virginia, 30 December 2022. – Iridium Communications announced the service introduction of Iridium Messaging Transport (IMT), a two-way cloud-native networked data service optimized for use over Iridium Certus. The technology is designed to make it easier to add satellite connections to both existing and new IoT solutions, the company said. 
IMT's IP data transport service is designed for small-to-moderate-sized messages. IMT is integrated with Iridium CloudConnect and Amazon Web Services (AWS), extending customers' IoT reach to those lacking terrestrial coverage. The solution is currently available for the Iridium Certus 100 service with introduction on Iridium Certus 200, 350 and 700 planned for Q1 2023. The connectionless messaging service can be used for small amounts of data traffic, utilizing an Iridium Certus terminal.
Two of the first products utilizing IMT are the RockREMOTE by Ground Control and STREAM+ by MetOcean Telematics. RockREMOTE is a solution for industrial IoT applications including oil and gas, mining, utilities, renewables, transport and cargo. Its users are able to send and receive messages and pictures anywhere in the world.
STREAM+, on the other hand, allows for the sending and receiving files and messages securely. The service was designed for field applications with size, weight, and power constraints. 
Iridium's Certus is a broadband service providing weather-resilient connectivity for on-the-move internet and IoT data transfer. Iridium offers global coverage through its constellation of crosslinked satellites in low Earth orbit.