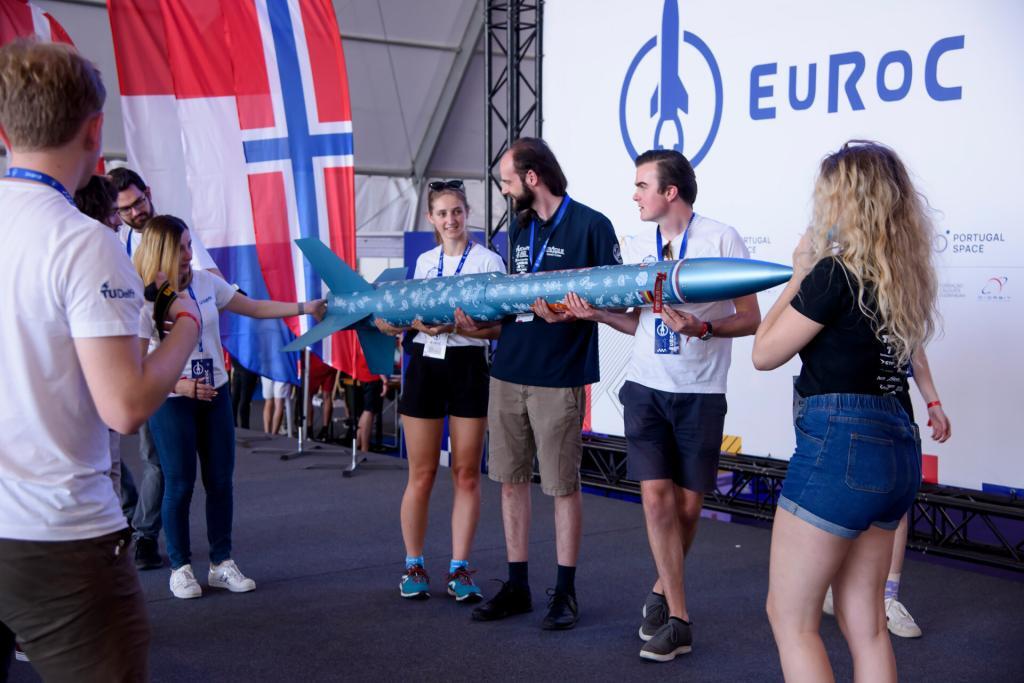 October 11, 2021 – The third edition of the European Rocketry Challenge – EuRoC – begins today. EuRoC is the rocket launching competition for European university students organized by the Portuguese Space Agency. This year's edition will hold between October 11 to 18, 2022, in Ponte de Sor and at the Santa Margarida Military Camp in Portugal, comprising 20 participating European teams.
The launches will take place at the Santa Margarida Military Camp, from October 13 to 17, with three daily launches, while the remaining teams will finish preparing their rockets in Ponte de Sor. The awards will be granted on the last day, before the closing ceremony at the Aerodrome of Ponte de Sor.
EuRoC awards seven trophies annually, with the flight awards allocated according to the altitude reached during the competition and the engine type. However, the 2022 edition will feature a new award. The Payload Award, under the sponsorship of the European Space Agency (ESA), will go to the team with the best weight capacity. The award recognizes innovation, reliability, applicability, and the payload's impact on society as if launched into space.
Joost Vanreuselt, Head of the ESA Academy at the European Space Agency, noted, "ESA and ESA Academy are proud to join the Portuguese Space Agency in the 2022 edition of EuRoC and to be a part of this inspiring competition, challenging some of the most talented European students." "I am confident that this participation will lead them to take a step, or a giant leap, closer to a career within the field of European space. Our ESA specialists are more than ready to get to know the teams, review the rockets' designs and support them in a successful launch," he added.
EuRoC began in 2020 and is one of the Portuguese Space Agency's initiatives in education, which has been one of its strategic pillars of activity since its foundation in 2019. The Portuguese Space Agency, which believes investing in young people assures the future of the Portuguese Space ecosystem, is led by the goal to promote and strengthen the space sector in Portugal for the benefit of society and the national and international economy. The previous edition ended on October 17, 2021, and featured 20 teams, 20 rockets, and 400 enrolled students.