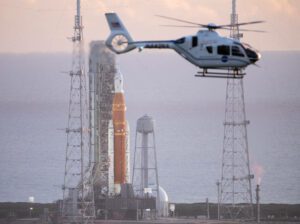 Edinburgh, 30 August 2022. – NASA's launch director halted yesterday's Artemis I launch attempt after a bleed test to get the RS-25 engines at the bottom of the core stage to the proper liftoff temperature failed, and the team ran out of time in the two-hour launch window. The Space Launch System rocket and Orion spacecraft remain in a stable configuration while engineers are evaluating the gathered data, NASA said.
Launch controllers began troubleshooting an issue with the conditioning of engine 3 while loading liquid oxygen into the interim cryogenic propulsion stage. The conditioning involves increasing pressure on the tanks to bleed some of the propellant to the engines. Engine 3 was not responding to the bleed process. 
NASA teams also discovered a crack in the core stage's thermal protection system material. Engineers are currently evaluating the data gathered during the launch attempt, with the mission management team meeting this afternoon to discuss how to proceed.
During countdown, the agency had to overcome several other issues as well, including storms in the area, and two different leaks. The next possible launch opportunity opens in the afternoon of 2nd September.