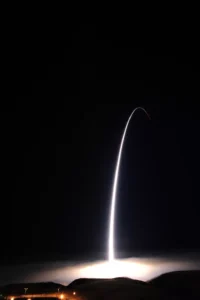 Aarhus / Vandenberg Space Force Base, 8 July 2022. – A Minotaur II+ rocket exploded approximately 11 seconds after launch, Vandenberg Space Force reported. No one was injured in the explosion and the debris fell back onto the immediate vicinity of the launch pad. Investigation is currently underway to determine what caused the malfunction.
The launch was supposed to demonstrate preliminary design concepts and relevant technologies to support the development of the Mk21A, a re-entry vehicle for the U.S. Air Force. The Mk21A is planned to launch on an LGM-35A Sentinel intercontinental ballistic missile (ICBM) currently under development, according to CBS News.
The new re-entry vehicle is part of the Sentinel program, under which launch facilities, missile alert and communication systems will also be upgraded. The current Minuteman III ICBMs will be decommissioned before the Sentinel weapon system becomes operational.