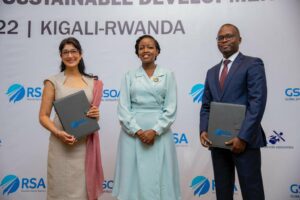 Edinburgh, 13 June 2022. – The Rwandan Space Agency (RSA) and the Global Satellite Operator's Association (GSOA) have signed a Memorandum of Understanding (MoU) to enhance satellite communication services and fast-track Africa's digital inclusion plans, Africa News reported.
The agreement was signed by Aarti Holla-Maini, Secretary-General of GSOA and Colonel Francis Ngabo, RSA's Director-General. The MoU will further the development of satellite communication services in Rwanda and capitalise the satellite spectrum for sustainable development. The parties will aim to connect every part of Africa and share knowledge and best practices during the cooperation as well.
Currently, only 35% of Africans have access to connectivity through terrestrial services and operators, therefore satellite connectivity could potentially fill this gap.