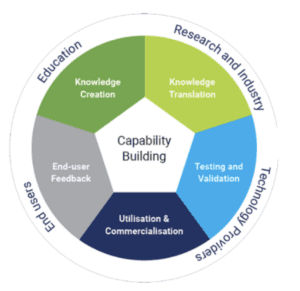 Edinburgh / Adelaide, 6 June 2022. – Space domain awareness and space control sensors and systems designer, manufacturer and operator EOS Space Systems, has become a core partner for the SmartSat Co-operative Research Centre, a consortium of universities and research organisations, SmartSat said. EOS is the 20th core partner alongside universities and global corporations like Airbus, BAE Systems and Nova Systems.
EOS' decision to join SmartSat is the result of project CHORUS, aiming to develop "leap-frogging" technology through a hybrid optical-radio frequency tactical terminal. The new technology will build on existing Australian compact RF tactical terminals and optical communication technologies. CHORUS' (Compact Hybrid Optical/RF User Segment) future applications are expected to include the commercial and national security markets. 
Phase 1 of the project took place between 2019-2020, researching and developing concepts for, and exploring the feasibility of CHORUS. Phase 2 is currently underway and will deliver a working terrestrial demonstration with a terminal in early 2023. 
With joining SmartSat, EOS will have priority to select and lead strategic research projects, the company said. It will also have the opportunity to nominate candidates for the SmartSat CRC Board and Industry Advisory Board.