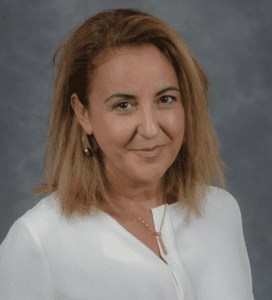 By Viktoria Urban
Our Space Cafe WebTalk "33 minutes with Catherine Kavvada – Secure connectivity and Space Traffic Management made by Europe" took place on Tuesday, 5th April.
Catherine Kavvada is a director for Innovation and outreach at the Directorate General for Defence Industry and Space (DG DEFIS) at the European Commission in Brussels. Kavvada is a trained lawyer with law degrees from the University of Athens and University of Aix Marseille III. In 1997 she joined the European Commission and worked initially in the Research Framework Programmes. Subsequently, from 2000 her main service at the Commission has been related to space, in particular, the European flagship Satellite Navigation Programmes Galileo and EGNOS (Head of Unit from 2011 to 2019 at DG GROW).
Currently, she focuses on the European New Space as a vector for society and economy, space research, synergies between space and defence industry, international relations and communication for the whole of DG DEFIS.
Space in general, not only in Europe but worldwide, is going through a massive transformation, Kavvada states. Policymakers have to embrace such a transformation and take all the appropriate measures in order to be prepared for this massive transformation. There are opportunities, in innovation in business, in cross fertilization between the space and other markets. She explains that the Cassini Initiative does just this by mobilizing over €1 billion in investment in the next five years.
Accelerators and hackathons help startups from day one. Research programs help find where the real innovation is and the European Innovation Council funds promoting new technologies in specific areas. Kavvada says that they also help companies to develop and test their technologies by funding a space laboratory that these firms can use, also taking into account launch costs. Once they have concrete results, the potential of these companies is taken seriously.
The beauty of space according to Kavvada is that there is plenty of challenges and plenty of benefits. Secure connectivity is one of the most important aspects. Ensuring guaranteed communication to governments in order for them to serve a number of applications, in terms of security and defense, and in terms of economic interest. Providing high-speed internet across Europe to the citizens is also crucial. Resilience is vital to ensure connectivity everywhere, despite the different situations. Security by design and a strategic approach to these programs are also important according to Kavvada.
She also clarifies that the studies they contract each year do not compete for the concession afterwards, they just help the European Commission to get all the elements needed in order to proceed with the next steps.
Kavvada says that protecting the interest and the lives of European citizens should be in the focus and that can only be done if acting as one team. 
"This is an international challenge, and international problems, we need to find international solutions."
The European Commission welcomes accelerators and works together with the European Space Agency to see how these will support the European Union initiative. There is complementarity rather than competition between the two organisations, Kavvada says.
The Commission has a reasonable budget under the horizon in order to promote the new technologies and new capabilities. However, the budget is not the only thing that is needed. Kavvada thinks that focusing on policy matters, the cooperation with the Member States and the European Space Agency, a legislative approach and focusing on international cooperation are also vital.
To listen to the Space Café WebTalk's insights, you can watch the full program here:
Viktoria Urban, contributing Editor at SpaceWatch.Global: After graduating as a Journalist from Edinburgh Napier University, I am now doing an Astronomy and Planetary Science degree at The Open University (Scotland) which has enhanced my already existing love and enthusiasm for space. I am also a member of and a volunteer for several societies both in Hungary and in the UK and write online content on space for multiple companies as well. I hope my science communication will encourage many to find a job in the space sector, whatever their background and highlight important issues to ensure a sustainable space environment for future generations.