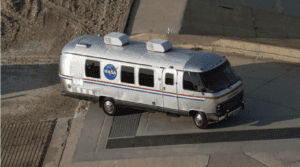 Edinburgh, 19 April 2022. – Canoo Technologies is supplying NASA's Artemis II crew with a new fleet of transportation vehicles that will be used to take the astronauts to Launch Pad 39B for their historic ride aboard the Space Launch System (SLS) rocket, NASA announced.
The fleet of three vehicles is designed to accommodate the fully suited astronauts, the support team, and their equipment. The transports will be based on Canoo's all-electric LV (Lifestyle Vehicle) models but customized for NASA's needs. The environmentally friendly vehicles will have pod-shaped exteriors and will use zero-emissions technology. They are replacing NASA's Astrovan fleet.
Besides transporting eight people each, the vehicles will be used to support prelaunch operations, training and rehearsal tests as well. The fleet will be available to NASA from June 2023 the latest, in time to support SLS operations.
Artemis II will send a crew roughly 64,400 km past the Moon, in preparation for Artemis III's crewed lunar landing mission.