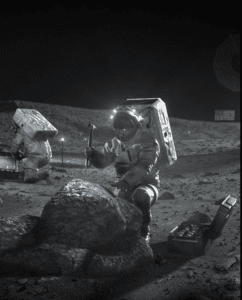 Edinburgh / Washington, 25 March 2022. – NASA announced that it will support the development of a second lunar lander to transport astronauts to and from the Moon's surface to provide competition with SpaceX during the sustainable phase of the Artemis program.
The agency will soon kick off the Sustaining Lunar Development award for a second lander separate from the existing Human Landing System (HLS). The HLS award was won by SpaceX in April last year. The new award will include an uncrewed and a crewed demonstration landing as well.
The fixed-price, milestone-based award aims to ensure the competition of two companies for future Artemis services contracts. Congress had lobbied NASA to provide this type of competition after the agency made a single award to SpaceX.
The landers designed under the Sustaining Lunar Development program will have to have greater performance than the HLS. They have to be able to transport more astronauts and cargo to the lunar surface and support longer missions.
SpaceX will not be eligible to compete for the Sustaining Lunar Development contract, NASA said. However, the agency will fund the development of the necessary changes to SpaceX's Starship lander supporting the new requirements.