This Space Café Scotland will feature movers and shakers from the Scottish Space Ecosystem in conversation with Angela Mathis, CEO of ThinkTank Maths and a friend of SpaceWatch.Global.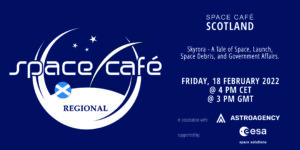 Skyrora – A Tale of Space, Launch, Space Debris, and Government Affairs.
Alan Thompson, 'a man with a mission' is Space Café Scotland's first guest of 2022.
Alan Thompson is head of Government Affairs in Skyrora supporting the launch vehicle manufacture to achieve its ambition of providing regular access to Space, launching from the UK.
Alan is responsible for managing and engaging with all key stakeholders across industry and Government. This includes Skyrora's involvement in Parliamentary Space Committee, industry associations such as UK Space, Space Scotland and others, and direct engagement with all government authorities, including the Space flight regulators- UKSA and CAA.
His background in international trade and development gives a new perspective to Space industry development in UK, in particular the ambition to challenge the current economic paradigm and the shift that the New Space economy will necessitate.
Together with the Space Café Scotland host, Angela Mathis (CEO, ThinkTank Maths) Alan will explain:
Why a four-year-old tech start-up has had to develop a fully-fledged Government Affairs function, where such functions are usually the prerogative of big pharma, or Primes, rarely of start-ups.

What does the Space industry landscape currently look like in the UK. What are the key fundamentals to make it economically sustainable.

He'll explore how he feels economic development comes into the picture.

Alan will give his views on what could be the key USPs of the UK space industry and what Launch could add to this.

He'll also share information around Black Arrow and why the launch in 1971 is so critical for the future of Launch.

What does Alan think he'll be working on in 5 years' time, if he's still in the space sector, and how will he and his colleagues at Skyrora be able to measure success in this New Space activity.
This Space Café Scotland will be conducted in English and is brought to you in partnership with a strategic space marketing firm, AstroAgency, supported by ESA Space Solutions.

SpaceWatch.Global is a Switzerland-based digital magazine and portal for those interested in space and the far-reaching impact of the space sector.
The audience will have an opportunity to ask questions.
This Space Café Scotland will be conducted on 18 February 2022 at 4 pm CET/3 pm GMT.
Reserve your place today.