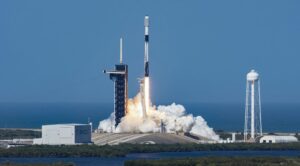 Edinburgh / Mountain View, 10 February 2022. – Up to 40 of the 49 Starlink satellites launched last Thursday will re-enter, or have already done so, due to a geomagnetic storm, SpaceX reported.
A coronal mass ejection hit Earth's magnetic field two days before launch but the weak impact did not trigger remarkable geomagnetic activity. However, G1-class (minor) geomagnetic storms developed later and one of these caught the Starlink satellites a day after deployment.
Such storms heat up the atmosphere and increase atmospheric drag, the force that pulls back space objects towards our planet. The company said that according to onboard GPS, this drag was 50% higher than during previous launches. 
The satellites were commanded into a safe-mode, meaning they flew edge-on to minimize the drag-effect. The spacecraft were unable to recover from safe-mode though, and failed to reach orbit or to counteract atmospheric forces.
The low orbit used by SpaceX with a perigee of only 210 km, only added to the problem. The firm intentionally uses this orbit so that spacecraft that fail can quickly de-orbit naturally. The Starlink satellites pose no risk to other space objects and they are designed to burn up completely on reentry, according to SpaceX.