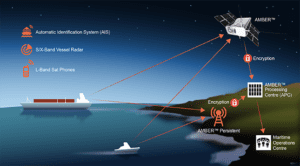 Edinburgh / Long Beach, 27 December 2021. – Virgin Orbit partners with Horizon Technologies, takes an equity stake in it and becomes its preferred launch provider, the company said.
Horizon operates airborne systems on aircraft through its FlyingFish and BlackFish product lines. Its current customers include NATO and the European Border and Coast Guard Agency.
Horizon recently launched their first Amber cubesat to provide improved data services including monitoring and detection of illegal fishing, piracy, smuggling, transshipments and terrorism.
Horizon wants to expand its Amber constellation and its space-based marine intelligence services with the help of Virgin Orbit´s LauncherOne.
Virgin Orbit has recently announced a series of strategic investments to grow its space solutions business. These comprise satellite imaging providers HyperSat and SatRevolution, that will fly on the company's next mission, Above the Clouds. Virgin Orbit is planning to complete its next launch in January 2022.