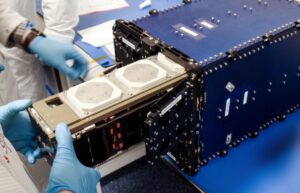 Edinburgh / Vienna / Cambridge, Ontario, 2 December 2021. – Spire Global announced it has successfully completed the acquisition of exactEarth by way of a plan of arrangement after all closing conditions were met.
Spire acquired all of the outstanding common shares of exactEarth for US $1.9592 in cash and 0.1 share of Spire Class A common stock. Due to the transaction, exactEarth common shares will be de-listed from the Toronto Stock Exchange. Maritime vessel data provider, exactEarth, will continue to operate from Cambridge, Ontario, Canada as a fully-owned subsidiary of Spire.
Spire gains exactEarth's 150+ customers with the acquisition, as well as over US $14M annual recurring revenue. The company will also benefit from a vast historical AIS (automatic identification system) database, and real-time data solutions. 
Spire aims to make the transition as smooth as possible for exactEarth's sales and product development team. The space-based data, analytics, and space services provider will integrate exactEarth's database speedily. This will help in accelerating artificial intelligence- and machine learning-driven product development.