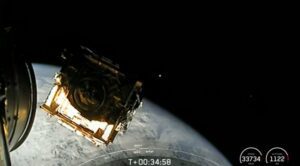 Edinburgh / Reykjavik / Tampa, 21 December 2021. – SpaceX launched a new set of Starlink satellites on a Falcon 9 rocket over the weekend, setting a new reusability record for the vehicle before launching a Turkish communication satellite just 16 hours later.
While the 52 satellites were deployed by the rocket's upper stage, the booster completed its record-breaking 11th flight. The vehicle was first used in March 2019 for the Demo-1 commercial crew test flight. The company has launched nearly 1,950 Starlink satellites altogether including this mission. Starlink services are currently operational in 20 countries while the company has more than 100,000 customers, as per SpaceX.
Less than 16 hours after the launch, the firm successfully deployed the Turksat 5B Turkish communications satellite. This was the first time for SpaceX to launch two Falcon 9 rockets on the same day. The Turksat 5B satellite will provide Ka- and Ku-band services over Turkey, the Middle East and certain regions of Africa. Turksat 5A launched to space in January this year on a Falcon 9 as well. The Turkish government announced that SpaceX will deploy Turksat 6A in 2023.
SpaceX set another record by launching 30 Falcon 9 rockets this year, of which 17 had Starlink satellites as payload. The 31st launch, the 24th Commercial Resupply Services (CRS-24) mission to the ISS is planned for later today.