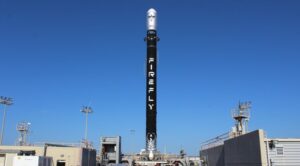 Edinburgh / Washington, 31 December 2021. – Firefly Aerospace paused preparations for its next Alpha rocket launch originally planned for early 2022, due to the U.S. government making its largest shareholder to divest its stake for national security reasons, SpaceNews reported.
Noosphere Venture Partners will sell its interest in Firefly at the request of the Committee on Foreign Investment in the United States (CFIUS), the company said. Firefly told SpaceNews in a statement that the government limited their operations at Vandenberg Space Force Base while the issue was being resolved.
It is unknown why CFIUS requested Noosphere to sell its stake in Firefly. However, the company figured it could have been due to growing tensions between Ukraine and Russia as Noosphere was run by Ukrainian-born Max Polyakov. Polyakov's fund holds an approximately 50% stake in Firefly but the foreign ownership has not been a problem before.
Nonetheless, Firefly had been minimizing Polyakov's role in the company even before CFIUS intervened. Noosphere had sold US $100M of its Firefly shares in May to satisfy "overwhelming demand" from investors. The Ukrainian-born investor was also dropped from the board of directors last year.
The Alpha small launch vehicle made its first orbital launch attempt in September but exploded due to premature engine shutdown. Firefly is planning to conduct four more Alpha launches in 2022 given that the next one is successful.