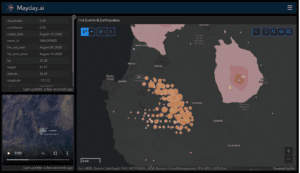 Budapest / Darmstadt / Freiburg, 15 November 2021. –  Mayday.ai and ConstellR, developing agricultural, risk and disaster management monitoring technologies, have entered a partnership. Mayday users will thus benefit from a higher spatial and temporal resolution to reduce climate change disaster risks. 
Mayday.ai provides real time risk and disaster intelligence. Their platform ensures early warning with the aggregation of multiple disparate data layers into a single image. The service covers various disasters, all phases of disaster management and all geographical regions, according to the company.
ConstellR uses satellite-based thermal infrared imagery for the optimisation of high-precision agriculture. The company developed a microsatellite technology that allows mitigating potential crop losses based on symptoms of stress. This provides the necessary information long before irreversible damage occurs.
As latency is key in disaster management, the availability of high-resolution thermal information in short time frames enables a host of applications. These include volcano and earthquake monitoring, underwater oil pipeline leak detection and pre-analyses of dry soil. The technology could help first responders, insurance companies, owners, aid organisations as well as governments.