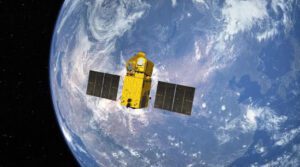 Edinburgh / Helsinki, 29 November 2021. – China launched its third Gaofen-11 reconnaissance satellite on a Long March 4B rocket, Chinese state media reported.
The Gaofen satellites form China´s High-resolution Earth Observation System and comprise optical, multispectral and synthetic aperture radar spacecraft.
The new satellite would be "mainly used for land surveys, city planning, land rights confirmation, road network design, crop yield estimation and disaster prevention and mitigation," according to state media Xinhua. 
The satellite´s data transmission and relay subsystems were developed by the Xi'an Branch of China Academy of Space Technology. Resolution capabilities along with other information has been published for the Gaofen series up to number 8. Data starting with Gaofen-8 have not been released which suggests they are being used for national defence purposes. 
The series has large apertures, over 1.5 meter in diameter for optical remote sensing. Gaofen-11 also has a resolution capability of 10 cm; further data is classified.