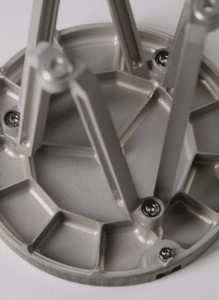 Budapest / Bremen, 16 November 2021. –  Astroscale Holdings revealed a universal docking device, the Docking Plate, at Space Tech Expo Europe in Bremen. The technology works like a car "tow hook" and is designed to future-proof space missions.
Over 12,000 satellites were launched in the last 6 decades and tens of thousands are to be deployed within the next 10 years. This increases the chances of high-velocity collisions by orbiting space debris. Astroscale aims to standardise the new fitment on all future LEO satellites to tackle this problem. 
Equipping spacecraft with a Docking Plate to prepare for future removal will enable companies to safeguard their assets and protect the space environment, Astroscale says. The customisable and lightweight Docking Plate will enable both robotic and magnetic capture mechanisms to securely attach to the satellite.
Astroscale's ELSA-d project, currently being tested in LEO, is the first spacecraft servicer of its kind to demonstrate the technology of removing defunct satellites. The mission uses the new docking mechanism's first prototype to prove its commercial viability.