By Izzy House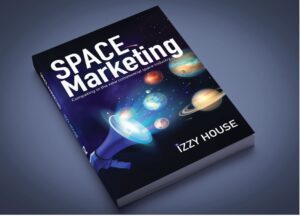 In the past few months, the space industry experienced some new milestones. Civilian astronauts launched into space. Richard Branson flew Virgin Galactic on July 11, 2021. Jeff Bezos flew with Blue Origin on July 20, 2019, and a second flight on October 13, 2021, with the iconic William Shatner. SpaceX's Inspiration4 launched on Sept 15, 2021, and orbited the Earth for three days. These events launched a new facet of the space industry that provides access to everyday people and spurs more involvement in the space economy.
These important milestones in spaceflight mark the rumble of an industry that is growing at an unprecedented rate. As the space industry explodes, over 70 countries have entered the space race. Marketing will become critical as more companies compete for business, investors, and contracts.
The new book, Space Marketing: Competing in the new commercial space industry is an introduction to marketing tactics and strategies through the lens of space.
The foreword of the new book was written by author David Meerman Scott. He is a Wall Street Journal bestselling author and has written twelve books including Marketing the Moon.
David Meerman Scott says, "Izzy shares proven marketing strategies and tactics including branding, social media, search engine optimization, and content generation. She shows you how to build relationships with existing and potential customers rather than just selling to them."
This book explores six areas of marketing design to empower businesses and companies to build a strong brand and connect with their audience.
Challenges of marketing within the space industry – This section highlights challenges such as changing business model, false mindsets, and secrets as well as challenges with for the overall marketing industry.
Understanding your audience and their problems – The most important component in any business is our audience. This book focuses on tools that can help develop an understanding about your audience and their problems. This is critical for any marketing to happen and is a key to success in any business.
Developing your brand – This book explores how to create a brand's personality and how to build a brand's trust. It unpacks the visual elements of a brand like a logo and moves into other activities that influence how a company is perceived by its audience.
Promoting your brand – Once we understand the "who" then it dives into the tools that help develop content and how to get it seen by your audience. The boo introduces tools like Search engine optimization and keyword development that help your content be found. It also introduces new technologies as well as existing platforms where content can live. It demonstrates how to develop a brand's story that inspires, educates and entertains. Once the content is launched into the world, it speaks about the metrics and analytics that helps determine the success of that content.
Marketing strategies and tactics – This section is where all of the nuts and bolts of marketing get to play. The author talks about successful marketing strategies using some of her favorite examples and how they have used these strategies.
Hiring a team – You get it. Now what? The book discusses how to hire and build your small marketing team. We look at the pros and cons of hiring an agency versus staffing inhouse talent. There are descriptions for those roles and the skills that are important to those positions.
Throughout the book, a fictitious rocket launch company illustrates the use of a particular tool or strategy. This developing story makes it easier to understand the concept and see how it can be applied.
Additional information can be found at https://izzy.house/space-marketing-book/
The virtual book launched October 1, 2021.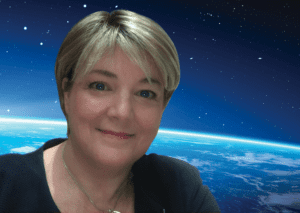 Izzy House utilizes creativity and her extensive marketing experience to help her business partners grow. The marketing strategies that she creates are attractive, produce results, and create income streams that have benefited 600+companies for over 20 years. From websites to print to video, her award-winning campaigns connect companies to their audience. Space Marketing is at the heart of her career. She combines both of her passions into one expertise. With an extensive marketing background, she turns the lens of marketing onto the space industry. Armed with experience in public affairs, outreach, and marketing, she aims to empower space companies and further their dreams of space exploration. Join her as she highlights marketing tactics that are successful in the space industry as well as strategies that can be adapted from other industries.