by Laura Anne Edwards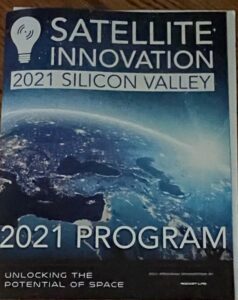 Imagine if in all of human history no one had yet explored the oceans. Imagine if our first proverbial "toe in the water" was a mere 70 years ago but we had the technology of today with which to explore and exploit it. That's very much the situation for space – the whole planet is converging on space at the same time. Let that sink in. The burden of stewardship as we become starfaring is equal only to the scale of the new frontiers that beckon, and the tipping point is right now.
I came to this event to listen to what the builders and buyers were saying. While there was a slight tilt towards examining the interdependence between commercial and military (Military Satellite [Milsat,]) verticals, it was always in the greater economic and geopolitical context and the conference overall offered an excellent peek into what's top of mind in this sector.
It was more than the general upbeat feel found these days across the board in the commercial space sector. The energy at Silvano Payne's Mountain View Satellite Innovation event last week was palpable. Attendees were clearly thrilled to be seeing colleagues after almost two long years of Covid social distancing and the warmth of old friendships was evident everywhere you looked. I overheard a number of people saying that this had always been one of their favorite events, it soon became clear why. Launch, Software, Satellite, Ground, Antenna, DOD/Space Force, and a diverse array of service providers as well as large aerospace companies and trade organizations, were all well represented.
They came here to get back to work and to frame shared opportunities and challenges. Meeting rooms and booths seemed to be enjoying steady traffic and lunch/break conversations were definitely animated. I don't have the figures on how many watched the live stream, but I can testify that all 2.5 days of the event had very well attended sessions with thoughtful audience questions.
The Top 10 Topics:
Constellations
Debris
Orbital lanes
Ground services
Interoperability
Contracts
Hybrid Ecosystem
Launch
Agile – Resilient – Secure
Other: Optical, AI, Antennas, Spectrum, Funding Gaps, Edge Computing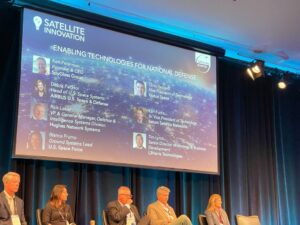 Constellations – it's ALL about the constellations right now. They are changing the game, in terms of capabilities, and in terms of pressure to create legal/economic policy to address and govern. New metrics and a big leap forward in ground services/security and analytics will be required to manage the scale and sheer complexity of these fleets.
Debris – the risk of "conjunction events," and the opportunities and legal challenges and possible regulatory and insurance frameworks to handle large debris decommissioning/salvage was discussed extensively. However, few solutions were put forward for addressing the exponential proliferation of very small and as of yet, un-trackable fragments. A keynote was dedicated to this topic with the main takeaways being that the measures we can for sure take to reduce the risks must be taken many years in advance of the impending incidents and that the thorny issue of analytics is complicated by this being a stochastic (defined as: "randomly determined; having a random probability distribution or pattern that may be analyzed statistically but may not be predicted precisely.") v.s. a deterministic issue. Note: some timely papers on this topic are linked below.
Orbital lanes – the looming issues of LEO/MEO a) traffic management and b) rights/liabilities based on claims or licenses to said lanes (salvage and operating hardware.) Location, location, location!
Ground Services – is facing new challenges including an adequate pipeline of trained operators, access to real estate & permission to build stations in desirable locations (like Maui,) as well as the longer lead times required to develop the hardware solutions, and the sector not seeing the same "sexy" funding spotlight currently enjoyed by the satellite, launch and AI verticals.
Interoperability – the need for improved interoperability in order to both scale and survive commercially but also to frog leap systems as needed in urgent situations was agreed upon in panel after panel….as was the frank assessment that the incentives are simply not there yet for small to mid-size firms which are understandably loathe to surrender the competitive advantages of proprietary tech.
Contracts – the evergreen bemoaning on the complexity and barriers to entry and timelines of government contracts. Comtech pointed out the particular pain point of established successful companies in the mid-size range as being both too big to benefit from all the encouraging startup funding (such as with the Defense Innovation Unit [DIU,]) but too small to ride out the long timelines that the biggest aerospace firms are able to manage.
Hybrid Ecosystem of Commercial + Defense – extensive discussion of the challenges and necessity of balancing a need to scale in order to be commercially successful with the challenges of making products that meet both the timeline and the unique security/compatibility/reliability needs of defense.
Launch – as a speaker pointed out; all the satellites today have one thing in common: they need a launch service. A diverse array of providers were featured, all focused on what they see as the launch on-demand market developing rapidly.
Agile/Resilient/Secure/Dated – extensive discussion on some of the many conflicts within defense contracting. How to get secure multimodal info for the warfighter (same capabilities needing for things like massive natural disasters) that are fast, reliable and yet able to pivot in a crisis, while often working with products several generations behind the commercial sector? Of note: defense is an area with huge opportunities for AI but also one which will continue to have humans in the mix, to calibrate, and backstop.
Other: Optical, AI, Antennas, Spectrum, Edge Computing, Additive Manufacturing – granted this is a bit of cheat, lumping these big topics into #10. All were mentioned frequently throughout the event, and there were terrific short info-packed Emerging Technology Briefs on several of them. One AI comment really stood out for me and that was the observation that AI is currently written for humans to understand, while soon, in order to manage the complexity, it will be written in native formats for AI to understand – what are the consequences of this?
In short, the vibe was very much an encouraging mix of innovation and long term value creation, with a shared vision and sense of responsibility for what's coming.
Papers referenced in Mark Dankberg of Viasat's Keynote about space debris:
A McKinsey report out on space debris
Here are papers on space debris and the Kessler Syndrome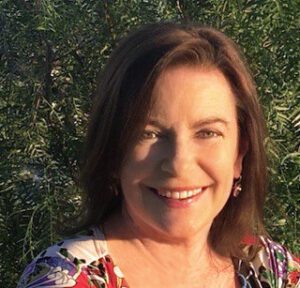 LAURA ANNE EDWARDS – Innovation catalyst, speaker specializing in Complex Systems and Space Tech Innovation. Laura was named a 2021 Top 50 Leader in Space Tech. Laura is a NASA Datanaut, a member of the Oxford Space Initiative, TED Resident, Board Member/Crowdfunder and a UC Irvine, Living Systems Collaboratory and Buckminster Fuller Design Science Studio Resident. Laura served on the U.S. State Department Advisory Committee for Technology and Innovation/Public Private Partnerships and was named in 2019 as a "Woman to Watch in Innovation". Laura consults and speaks on sustainable innovation, systems thinking, diversity of thought, the potential for true AI-Human collaborations and humans thriving in space. Advisor: CogniDNA, Space Nation