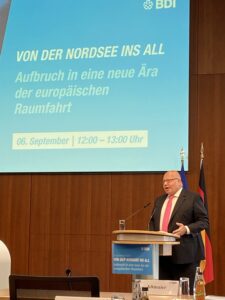 Paris, 7 September 2021. – The German government supports plans to build an offshore launch platform in the North Sea, Germany´s minister for economy, Peter Altmaier, said in Berlin.
The minister partnered with Siegfried Russwurm, CEO of the Federation of German Industries (BDI), who had promoted the idea since several years, and gave his blessing to support the German Offshore Spaceport Alliance (GOSA) which wants to operate the spaceport in the German North Sea.
The alliance signed MOUs with four microlaunchers, it said: Rocket Factory Augsburg and Hyimpulse, T-Minus from the Netherlands and Skyrora from the United Kingdom.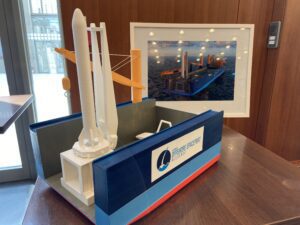 Other partners supporting the alliance and the plans are the German aerospace firm OHB, the shipping company Harren & Partner, the telecom service provider Media Mobil, the offshore expert Tractebel DOC, the insurance company Lampe & Schwartze and the logistics firm BLG Logistik.
Microlaunchers are making rockets that would typically carry payloads of only 500 to 1,000 kilograms – compared to the up to a dozen or more tons that large launchers from ArianeGroup or SpaceX can carry, allowing a fundamentally different category of space missions.
Critics of microlaunchers have often said that there might hardly be a market for standalone small rockets and payloads which could not be covered by the operators of large launcher families like Ariane/ Vega or Falcon 9/ Heavy.
SpaceWatch.Global had the chance to speak with Sabine von der Recke, spokesperson of GOSA, on  24 August 2021 in the Space Café "33 minutes with…" . Find the LINK here.